Crowley continues stunning start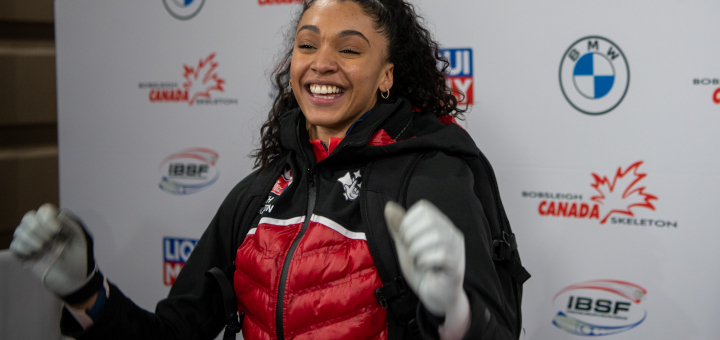 British Skeleton's superb start to the new season continued in the early hours of Friday morning as Brogan Crowley won World Cup silver in Whistler.
Crowley's maiden medal came just a few hours after Marcus Wyatt had won gold and Matt Weston bronze in the men's race at the same venue.
The 28-year-old jumped up from sixth after the first run to joint second at the finish to smash her previous personal best of fifth in the first of eight scheduled World Cup competitions this season.
Crowley set a new start record - just as Wyatt and Weston had done earlier on - as she finished level with American Hallie Clarke and 18 hundredths of a second behind reigning Olympic Champion Hannah Neise in Canada.
The former GB Youth heptathlete clocked a combined time of 1 minute 47.58 seconds, with a stunning start time of 4.74 seconds in Run 2 helping her overhaul the likes of Olympic medalist Kimberly Bos on the way to the podium.
Brogan Crowley made the WC top three for the first time
The result came in just Crowley's 15th World Cup start and nine months after she placed 23rd in her first Olympic Winter Games in Beijing.
It also marked the first time that Great Britain had won medals in both men's and women's skeleton at the same World Cup race since double Olympic champion Lizzy Yarnold and fellow Olympic medalist Dom Parsons won gold and bronze respectively in Calgary in November 2013. 
"Going into race day, I was really excited. I'd put a few good runs together in training in different parts of the track and I knew I just needed to put something together for two runs in the race," said Crowley.
It's always hard to be consistent in Whistler so I'm really pleased to have been able to put something together for a silver medal. 
"I'm really pleased to have pushed a start record. That was a big record for Mimi (Rahneva) beforehand. I really wanted to beat that in Run 2 after Jane (Channell) had smashed it in the first run.
"I think there's a lot of potential there for the future so I'm excited for the rest of the races moving forward."
Fellow Brit Laura Deas finished 12th in a time of 1.48.91.
Bobsleigh action takes centre stage tomorrow as Brad Hall and Taylor Lawrence go for GB in the 2-man event from 10.30pm GMT, before Greg Cackett and Arran Gulliver join them for the 4-man competition 24 hours later.
The circuit heads to Park City in the United States of America next week.