Crowley 5th as Coltman leads EC medal haul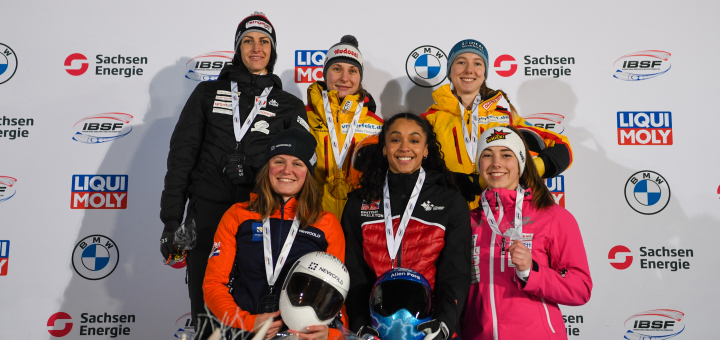 Brogan Crowley finished fifth in the European Championships as team mates Amelia Coltman, Laurence Bostock and Jacob Salisbury won medals on the Europa Cup circuit.
Crowley placed eighth in the World Cup race in Altenberg a week after finishing 16th at the same venue and, with the race doubling as the continental championships once all non-European results had been removed from the standings, made the wider podium in Germany.
The 28-year-old clocked a combined time of 1 minute 58.10 seconds as Tina Hermann took gold on home ice ahead of Austria's Janine Flock and teammate Susanne Kreher. Olympic bronze medalist Kimberly Bos from the Netherlands was fourth in the European Championships.
On the EC circuit in Latvia, Coltman enjoyed double medal success in Sigulda as she won gold on Thursday and silver on Friday.
The 26-year-old took top spot in her first EC race of the year, beating World Cup medalist Kim Meylemans by six tenths of a second and the rest of the 20-strong field by at least a full second. 
Coltman followed up Thursday's superb result with another fine showing 24 hours later as only Meylemans got the better of her on Friday.
Those results mean the Melton Mowbray slider has now won five medals this season, having claimed Intercontinental Cup gold and bronze in PyeongChang in December, plus a previous gold in Winterberg a month earlier.
Having finished fifth in the first of the two men's EC races on Thursday, Bostock went three spots better to win silver second time around.
Only 2022 Olympian Amedeo Bagnis beat Bostock on Friday, with the Brit just 14 hundredths behind the Italian race winner, who also took gold on Thursday.
Salisbury placed seventh on Friday but finished third on Thursday to make it a hat-trick of EC and ICC bronze medals for him so far this season.
Ashlyn Bland was 11th and 12th in the women's race in just the second and third competitions of her career, with Patrick Atkin 11thin the men's event Thursday and 22nd on Friday following a crash coming out of corner 14.