Bronze brace at World Push Champs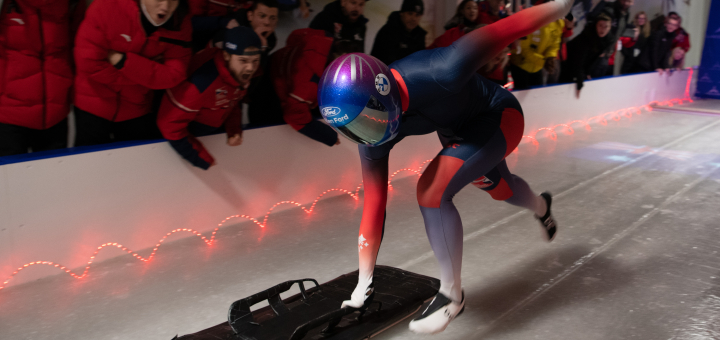 British Skeleton won another brace of bronze medals at the weekend as Brogan Crowley and Matt Weston made the podium at the World Push Championships.
The results take the team's medal tally to 18 in just a few weeks' of racing at the start of the new sliding season. 
British Skeleton have won five medals in two World Cup meets and 11 more on the Intercontinental Cup and Europa Cup circuits, with Crowley and Weston both among the medalists in World Cup 1 in Whistler in late November.
The World Push Championships see athletes compete over the starting distance of a race only, with the purpose built ice house in Mount Van Hoevenberg hosting the event on Friday and Saturday December 9 and 10.
The competition was making its first appearance on the IBSF calendar for nine years but entry remained optional a week ahead of World Cup 3 in nearby Lake Placid.
The World Push Champs were held for the first time since 2013
GB entered three sliders in the skeleton events, with Laurence Bostock joining Crowley and Weston on the start line, but Laura Deas, Marcus Wyatt and Brad Hall's bobsleigh crew opted to focus on preparations for the next race rather than compete in the non-ranking event.
Crowley finished third behind home favourite Mystique Ro and Canada's Jane Channel, with Weston matching that feat behind China's Yin Zheng and Germany's Felix Keisinger over three combined start times. Bostock placed fifth in the men's race.
World Cup competition starts again this Friday, with Bostock, Weston and Wyatt in action from 3.30pm GMT and Crowley and Deas racing at 7.30pm the same day.
Hall, Greg Cackett, Arran Gulliver, Taylor Lawrence and Rory Willicombe compete in the men's bobsleigh at the same venue, with the 2-man competition scheduled for 3pm on Saturday and the 4-man race on at 7.30pm on Sunday.