Bobsleigh's back for Worlds Take II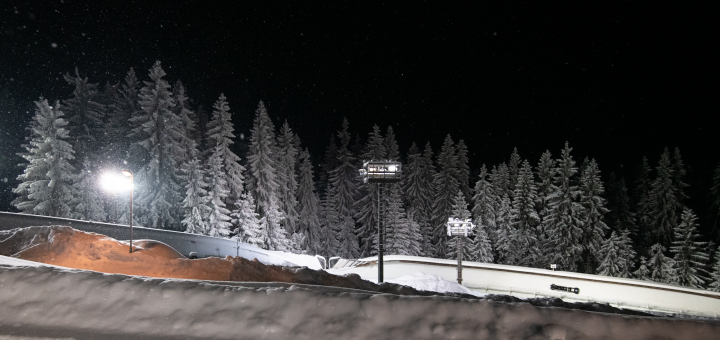 The World Championship bobsleigh action returns this weekend as three British crews take to the ice in Altenberg.
Having had the women's and 2-man events last week, it's now the turn of the monobob and 4-man bobsleigh to bring the curtain down on the showpiece event of the season.
Once the skeleton team event has taken place at 8am GMT on Saturday, bobsleigh will take over, with Mica McNeill going for GB in the monobob and Lamin Deen and Brad Hall piloting British crews in the 4-man.
Deen will be joined by Olympic bronze medalist Joel Fearon, plus Tremayne Gilling and Ben Simons, while Hall teams up with Taylor Lawrence, Luke Dawes and Nick Gleeson, with Gleeson having recovered from a hamstring tear but with Greg Cackett having travelled home for family reasons. 
Hall heads into 4-man race day after finishing an impressive eighth in the final World Cup race of the season in Igls a fortnight ago, while Deen was 11th in the same competition and both are in good spirits as they look to finish a hard season on a high.
"We're really looking forward to it. We finished seventh last year with Taylor and Luke both on the sled as development athletes and they've improved massively this season, as they showed in Igls a couple of weeks ago," said Hall.
"It's really unfortunate not to have Greg after he had to go home but we fully understand that and we support his decision 100 per cent. We're excited to have Nick back with us and we're looking forward to seeing what he can do again in 4-man.
Training's been going well this week. We've had a few mistakes because the track's very difficult in these cold temperatures but that should make for some exciting racing. It's all about consistency this weekend: whoever puts down four consistent heats will be in the mix.
"We've had a lot of setbacks this year that we've had to battle through and that's been far from ideal but the main aim is still Beijing next year. It's good to get the bad luck out of the way this year so next year we can be back at it full throttle and, hopefully, be standing on the podium there."
Brad Hall and his team were seventh here last season
"We're in a development season but we want to finish as we wanted to start - always looking to improve," added Deen, who is competing in his eighth World Championships and has a championship PB of fifth in Winterberg six seasons ago.
"The aim was always to develop the crew and then work on the equipment and we're focused on doing the best we can with the equipment we've got.
We've got our eyes on top 10, top 12 finish and the same for the start rankings.
"It's been a long season so the guys are excited to get home to see their families post-season but preparation's been good and the guys are looking forward to it."
Lamin Deen and co have lots of World Championship experience
McNeill raced last week with Montell Douglas but this is just her seventh time competing in the individual discipline.
The 27-year-old was 12th two weeks ago in Igls but was sixth the week before in Konigssee in an event that will make its Olympic debut in Beijing in a year's time.
Mica McNeill will race in the first-ever mono bob World Champs
Race schedule
Sat 13 Feb
Skeleton Mixed Team Competition 8am
Women's monobob (Heat 1 & 2) 10.30am
Men's 4-man bobsleigh (Heat 1 & 2) 2.45pm
Sun 14 Feb
Women's monobob (Heat 3 & 4) 8am
Men's 4-man bobsleigh (Heat 3 & 4) 2pm
You can watch all the World Championship racing via the International Bobsleigh & Skeleton Federation website and on their YouTube channel.
We'll provide updates from the races via our own social media channels and we'll post a round up of results once they've come in.