Bobsleigh secure funding boost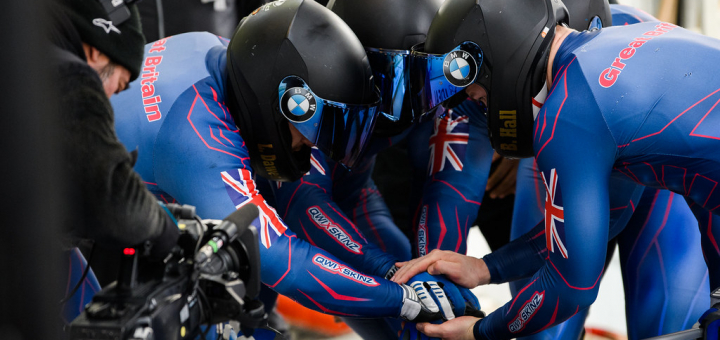 The BBSA is pleased to announce that it has secured £40,000 of funding from UK Sport to aid the British Bobsleigh teams aiming to qualify for February's Olympic Winter Games.
Bobsleigh, which has not been UK Sport funded during this Olympic cycle, is one of seven sports to receive a financial boost as part of UK Sport's new Beijing Support Fund.
Sports not currently in receipt of World Class Programme funding who have achieved significant international results and whose athletes or teams are on track to qualify for Beijing were eligible to apply to the Fund, with the BBSA producing an in-depth proposal and detailed spending plan that secured the maximum award available.
These funds will be used directly to support teams led by pilots Lamin Deen, Brad Hall and Mica McNeill, all of whom are on track to represent Team GB in Beijing in four months' time. 
"We are delighted to have had our bid for funds accepted in full by UK Sport. These funds will make a significant difference to our teams as they finalise their preparations for next February's Olympic Winter Games," said BBSA Chair, Joanna Poulton.
In particular, this money will enable attendance at this month's International Training Period in Beijing, where the teams are currently getting their first taste of the new Olympic track. That preparation will be vital to our chances of success at the Olympic Winter Games in China next year and we are very grateful for the support UK Sport have offered at a key time in our teams' preparations.
"We thank UK Sport for recognising the significant results our teams have achieved while having to rely solely on their own funding and we are now really looking forward to seeing them make a big impact when the World Cup season begins next month, and again in Beijing in four months' time."
Crews led by Deen, Hall & McNeill will all benefit from the funding
The World Cup bobsleigh season starts in Igls, Austria on November 20th, with eight races across five European venues prior to the showpiece event of the year in China from February 4th -20th. 
Deen, Hall and McNeill all competed at the last Olympic Winter Games in PyeongChang in 2018 and all have had either medal winning or top-four results at World Cup level over the last four years.
"With less than four months before the start of the Olympic Winter Games in Beijing, we are delighted to have set up the Beijing Support Fund for these sports, athletes and teams to benefit from," added Sally Munday, CEO at UK Sport.
This is the first Fund of its kind for winter sports under UK Sport's new mission, which places an importance on demonstrating our commitment to a wider group of sports, athletes and teams in our high-performance community.
"The Fund will provide crucial support for everyone involved in the final months leading up to the Games as they first aim to qualify and then look to perform at their very best in Beijing. We are looking forward to working with these seven sports in helping them achieve success."