Bobsleigh season up and running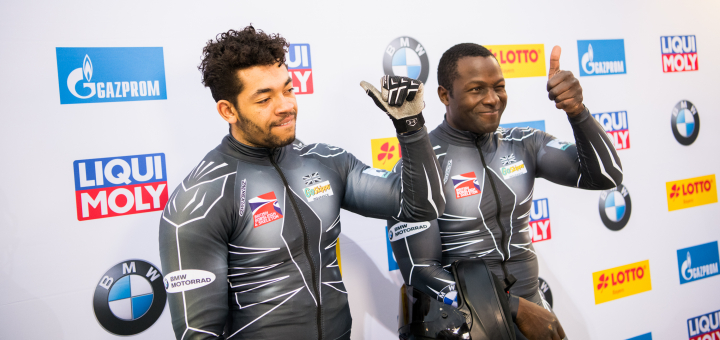 The opening weekend of bobsleigh action for British athletes saw Lamin Deen finish eighth and then 11th as five GB Development pilots also gained racing experience in Germany.
Deen, who is aiming to be at his third successive Olympic Winter Games in Beijing in 15 months' time, teamed up with Ryan Letts in the 2-man event in Winterberg on Saturday, before handing an international debut to James Dasaolu a day later.
Letts helped Deen to start times of 5.34 and 5.29 seconds as they clocked a combined time of 1 minute 52.78 seconds to finish 32 hundredths of a second outside the medals and 0.45 seconds behind race winners Peter Hans Hanninghofer and Christian Roeder.
Dasaolu, who made the switch from sprinting in the summer, was at the back of the sled for start times of 5.32 and 5.23 seconds as Deen drove the two heats in 1 minute 53.24 to end up 0.94 seconds adrift of Hanninghofer, who took for gold for the second day running.  
The field featured more than 30 sleds for both 2-man races, with a number of World Cup pilots in the mix, including Latvia's Olympic bronze medalist Oskars Melbardis and World Cup medal winners Maxim Andrianov, Romain Heinrich and Michael Kuonen.
Adam Baird was the next best placed Brit on Saturday when he finished 23rd with Dave Coleman on his fifth international start. A serving member of the Royal Marines, Baird then finished 29th with Royal Navy Clearance Diver, Tom Milner, 24 hours later.
Axel Brown was 24th with Adam Hames on Saturday, before improving by a single spot with Tom Harris on Sunday, while John Stanbridge placed 32nd and 30th with Alex Cortes-Tankard on his debut GB drives.
In the women's event, which took place on Sunday afternoon, Felicity Bee and Emily Barrett were 16th and Jo Ellett and Mel Haslem 17th in a smaller field.  
Deen moves on to compete in World Cup competition this coming weekend, as he joins Brad Hall and Mica McNeill in piloting GB crews in Igls on Saturday and Sunday.