Bob action ends 2021 Worlds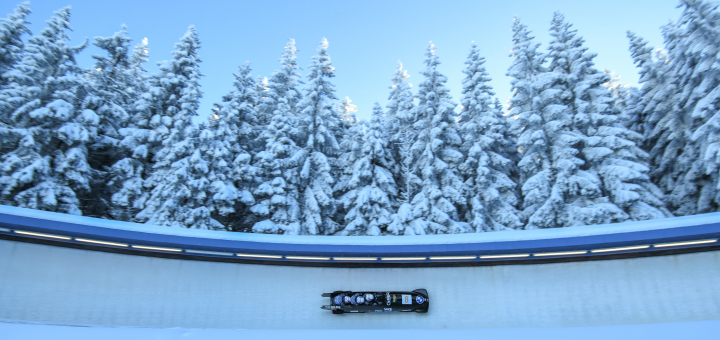 The bobsleigh action at the 2021 World Championships concluded on Sunday with a 13th place finish for Mica McNeill in the women's monobob and 12th for Lamin Deen in the 4-man.
McNeill went into the weekend's races on the back of a 19th-place finish with Montell Douglas in the women's bobsleigh and she began the competition with a solid first run that saw her sit eighth of 23 sleds.
The 27-year-old was ninth at the end of Day 1 but she slipped to 11th and then 13th after Runs 3 and 4 in the first-ever monobob World Championships.
Kaillie Humphries took gold to add the monobob title to the women's bobsleigh crown she won with Lolo Jones last week. The American was fourth after the first run but recorded the quickest times in each of the following three heats to beat Germany's Stephanie Schneider and Laura Nolte by 0.5 and 0.8 seconds respectively.
In the 4-man event, Deen, Ben Simons, Joel Fearon and Tremayne Gilling were 15th on Saturday night but climbed three spots in the overall standings on Sunday.
They saved their best run to last in terms of position in the field as they came down ninth fastest in the final lauf. Deen, who was competing in his eighth World Championships as he aims for a third Olympics next year, had targeted a top 12 spot prior to race week and the team secured that by 0.02 seconds from Switzerland's Michael Vogt. 
The Brits were just a tenth of a second from Russia's Alexey Stulnev in 11th and 35 hundredths back from the last of the top ten spots held by Canada's Chris Spring.
Brad Hall, Taylor Lawrence, Nick Gleeson and Luke Dawes were 14th at the halfway stage on Saturday but didn't start Sunday's two heats due to injury. Hall, who dealt with ankle problems early in the season, was struggling with a groin injury and Gleeson was still troubled by the hamstring tear that had ruled him out of the last three World Cup races and last week's 2-man competition in Altenberg.
Germany's Francesco Friedrich took his fourth 4-man world title and his 11th overall as he continued his remarkable recent record. The reigning Olympic Champion in both disciplines won every single 2-man and 4-man race this season bar one and was the quickest in all eight runs at the World Championships.
Austria's Benni Maier bounced back from the disappointment of crashing out of the 2-man race to win silver, with Johannes Lochner taking bronze.