500 days to Beijing 2022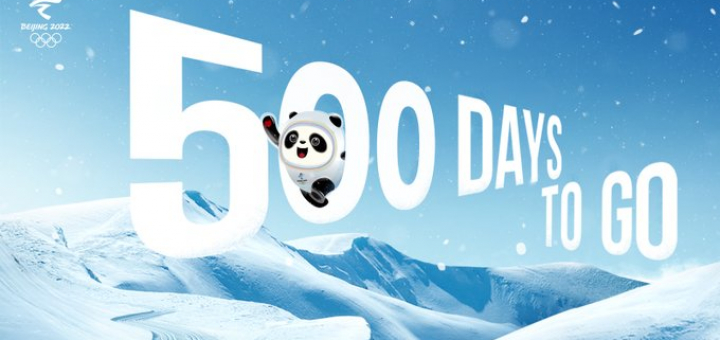 With all the uncertainty and concern engulfing the globe over the last six months as a result of the Coronavirus pandemic, it's easy to forget that the next Olympic Winter Games is now well and truly on the horizon.
In fact, today marks 500 days until the winter world's showpiece event begins in Beijing in February 2022. It's creeping up on us and it'll be here before we know it.
The fact that the Summer Games have been pushed back until 2021 means the world will witness two huge sporting events in the space of six months and that, quite probably, the Winter Olympics may remain in the background until Tokyo's time in the spotlight comes to an end on September 5 next year. 
But for bobsleigh and skeleton athletes here in Great Britain (and everywhere else in the world for that matter), being at their best in Beijing is behind every single move they make, whether that's the meals they eat, the weights they lift or the times they push. Everything is now geared towards being at the peak of their powers come the Chinese extravaganza.
That attitude is summed up perfectly by bobsledder Montell Douglas, who featured as a sprinter at the 2008 Summer Olympics in Beijing and was part of the bobsleigh squad in PyeongChang 10 years later.
"Beijing is 500 days away: that's 71 weeks to work smarter; 12,000 hours to recover better or 720,000 minutes to perfect our craft," said Douglas, who should be a key part of Mica McNeill's crew when the sliding season starts in November.
"In the end, we can't count the days - we have to make the days count." 
Montell Douglas knows that the next 500 days are crucial
Like Douglas, Laura Deas is another athlete who has already experienced the Olympic dream after she won a brilliant bronze in the women's skeleton in South Korea two-and-a-half years ago.
Deas remembers that occasion vividly but she can scarcely believe the chance to repeat the feat is now less than two seasons away.
"It's an exciting time knowing that it's 500 days until the Beijing Winter Olympics. I can't believe how fast this Olympic cycle has gone," added Deas, who made history with Lizzy Yarnold and Dom Parsons as the British Skeleton team took home three of Team GB's five medals last time out.
It still feels like yesterday that we were preparing for PyeongChang
"It's hard to believe it's come around so quickly but it's really exciting and I can't wait to get the season underway now."
Deas' team-mate Marcus Wyatt is the nation's No1 male slider but he hasn't yet featured for Team GB on the biggest stage of all. The 28-year-old narrowly missed out on selection for PyeongChang as Parsons and Jerry Rice took the two available slots, although he did still get a glimpse of the ultimate experience as he travelled with the British Olympic Association's Futures Programme for athletes predicted to play a big part next time around.
Now next time is fast becoming this time and Wyatt desperately wants to be on the track rather than in the stands in 17 months.
"It's crazy how quick it's come around: I remember when I joined the British Skeleton team and it was about seven years to go - it seemed so far away!
All of a sudden, it's 500 days to go and it feels so close.
"This year is a really important one - it's probably the second most important in the Olympic cycle - and a good season would be a big confidence boost before the Olympic year.
"I'm so excited already and hopefully, if things go well for me, it really will be fulfilling a lifelong dream."
Marcus Wyatt wants success on the big stage
Brad Hall fulfilled that dream in 2018 but the aim now is to be pushing for the podium in 2022. 
The British bobsled pilot won World Cup silver with Greg Cackett in Igls last season and he knows that he and his crew have the ability to challenge for an Olympic medal, but only if they leave no stone unturned between now and Beijing.
"500 days will go pretty quickly so we have to make the most of every session. It doesn't matter what type of session it is, whether it's on ice, in the gym or on the push track, we've got to make sure we take something from it," said Hall.
"This season is a big one for us and that's mainly because we've now only got one full season until the Games. The Olympic season goes in a flash so this year is all about being as prepared as we can be. We had some great success last season and we want more of that this year. 
Beijing has been our main focus for a while now but it's definitely feeling more and more real by the day.
"It doesn't matter if you've been to an Olympics before, it's the reason everyone gets into the sport so a milestone like today is an exciting one - it's a reminder of why we all do what we do." 
500 days until Beijing 2022…
That's circa…
16 and a half months
71 weeks
12000 hours 
720000 minutes 
Or in training and competition terms…
1 World Championships
16 World Cup races
36 race runs
140 training runs
214 gym sessions