4-man team make history in Igls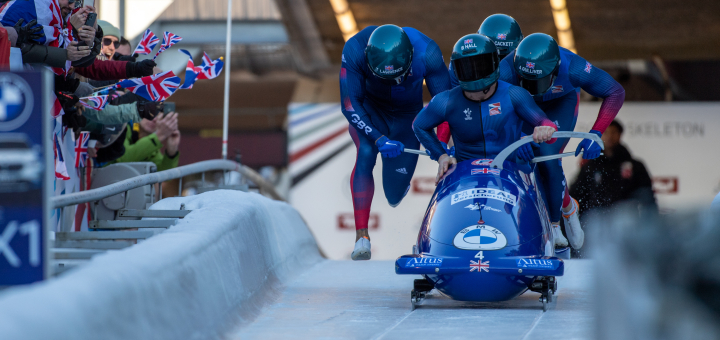 Great Britain won a first men's bobsleigh overall World Cup medal since 1995 as Brad Hall, Arran Gulliver, Taylor Lawrence and Greg Cackett won race silver and overall silver in Igls on Sunday afternoon.
No British men's team had made the overall podium since Mark Tout 28 years ago but Hall and his crew matched that feat with yet another outstanding performance in the final 4-man race of the season.
Hall, Gulliver, Lawrence and Cackett registered a seventh medal in eight 4-man World Cup races as they backed up yesterday's silver at the same venue.
It means they finish the 4-man season with three gold medals and four silvers, with a fourth-place finish in Park City the only time they were off the podium throughout the whole campaign.
Today's historic achievement comes just a week after they won the country's first 4-man World Championship medal in 84 years with silver in St Moritz seven days ago.
Only arguably the world's greatest ever bobsledder prevented the team from taking Great Britain's first ever World Cup title as Francesco Friedrich won for the 13th time in a row in Igls to claim his fifth successive 4-man World Cup crown.
Hall and Friedrich had been tied at the top of the global rankings heading into the last two 4-man races of the campaign and victory today would have secured at least a share of top spot for the Brits.
They came within a whisker of achieving that feat as they clocked a combined time of 1 minute 40.36 seconds to finish 19 hundredths of a second behind Friedrich, having trailed by just 0.07 seconds at halfway.
With the third fastest start in Run 1 and the second quickest in Run 2, Hall, Gulliver, Lawrence and Cackett kept up their remarkable record of never being outside the top three starters in 20 top tier heats this season - an incredible effort considering they had never competed as a crew prior to November.    
Today's overall World Cup silver makes Hall just the third British men's pilot to claim a season medal, with Nick Phipps' bronze in the 2-man and 4-man combined event in 1986 and Tout's 4-man silver in '95, bronze in '92 and '94 and combined bronze in '94 the only other occasions a podium place has been achieved.
Nicola Minichiello won overall bronze in the women's bobsleigh in 2009 and Michelle Coy-Martin medalled twice in the 1990s.
GB are still in the hunt for two more overall World Cup medals when the campaign concludes with a 2-man double header in Sigulda next Saturday and Sunday.
Hall currently sits second in the combined rankings and third in the 2-man standings, with only Friedrich ahead of him in the combined and just World Champion Johannes Lochner and Friedrich in front in the 2-man competition.