Yarnold wins silver in second race back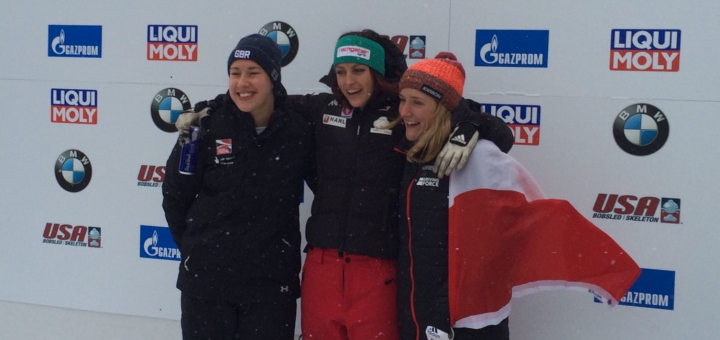 Olympic Champion Lizzy Yarnold won a superb silver medal in just her second race since her return to the international skeleton circuit.
Yarnold took second spot behind Austria's Janine Flock in Saturday's World Cup competition in Lake Placid to jump to the top of the sport's global standings with two of the eight races completed.
The 28-year-old only returned to the action a fortnight ago following a season-long absence after winning the World Championships in Winterberg in March 2015 and she admits her appearance on the podium was a great way to end the calendar year.
"I'm chuffed with the silver medal today," said Yarnold, whose first run would have been a track record in New York State had Flock not gone quicker moments earlier.
"The snowy conditions were tricky, but that's what winter sports are all about!
"I'm glad to be back on the podium and I feel good about how I'm sliding two races in after a year off. Most of all I will take the positive out of the fact that I wasn't necessarily the fastest in training this week but, come race day, something kicks in and I can bring it when it matters most.
"I'm looking forward to the Christmas break as world number one and I can't wait to catch up with my family and friends."
Lizzy Yarnold now leads the world rankings (c) Heather Dichter
Yarnold clocked 54.94 and 55.64 seconds across her two runs for a combined time of 1m 50.58 in snowy conditions and temperatures approaching -20 degrees centigrade.
Fellow Brit Laura Deas finished joint 10th after an impressive second run saw her jump up from 16th having knocked more than half a second off the time she posted first time down.
Deas finished with a combined time of 1m 51.53, with her second run showing the fifth fastest in that heat. She now sits ninth in the world rankings, with 320 points to compared to Yarnold's 402.
In Friday's men's race, GB's Dom Parsons finished 10th and Jack Thomas 25th.
The next installment of World Cup skeleton action comes in Altenberg, Germany on the weekend of January 6th-8th.
World Cup (Lake Placid, USA). Women: 1 J Flock (AUT) 1m 49.77s (54.84s & 54.93); 2 L Yarnold (GB) 1-50.58 (54.94 & 55.64); 3 M Rahneva (CAN) 1-50.92 (55.39 & 55.53); 10 L Deas (GB) 1-51.53 (56.08 & 55.45)
World Cup standings: 1 L Yarnold (GB) 402pts; 2 J Loelling (GER) 394; 3 E Vathje (CAN) 385; 9 L Deas (GB) 320