Yarnold returns for World Cup opener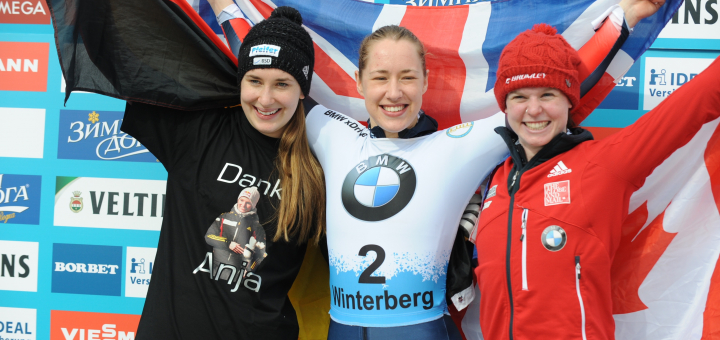 Olympic Champion Lizzy Yarnold returns to the international skeleton circuit for the first time since winning World Championship gold in Winterberg in March 2015 when the World Cup campaign kicks off in Canada this Friday.
Dom Parsons, who was fifth in the World Cup rankings last season, and Laura Deas, who won gold and bronze medals in 2015/16, join Yarnold and new World Cup squad member Jack Thomas at the 2010 Olympic track in Whistler.
The first of the season's eight World Cup races sees Yarnold and Deas go for Great Britain from 10pm UK time on Friday night before Parsons and Thomas, who is set for just his second skeleton race on the top tier, take to the track at 6pm on Saturday.
"I've come back feeling refreshed, recharged and ready to give it my all again," said Yarnold, who won all four major skeleton titles in the space of just over 400 days before her season away from the ice.
"I needed a break last season but I was always determined to come back and try and retain my Olympic title. I hope this is the first step on that journey.
"I know how difficult that challenge will be as so many women slid so well last season but I'm really looking forward to that."
Deas is one of those athletes that Yarnold refers to after she won last year's season opener in Altenberg and finished third in Lake Placid in January.
Parsons was fifth in his last World Cup race in Konigssee, while Thomas made his World Cup bow at the same venue, finishing 20th in a strong field.
Jack Thomas made his World Cup debut in Germany in March
"I've always wanted to compete on the top circuit and it was a big goal of mine to get selected for the World Cup," added Thomas.
"I loved the chance I got in the final World Cup race of last season and I was desperate to be able to do it again.
"I haven't had much experience out here in North America but I'm showing some good improvements during training, so I'm excited to see how it comes together against the best in the world this Saturday.
"I had a really strong summer and physically I'm in the best shape of my life. It's going to be an exciting season!'
Thomas and his team-mates have been working hard in the gym and on the push track in Bath over the summer and Performance Advisor, Andi Schmid admits there is a real air of excitement now that the team are returning to what they do best.
"The team worked incredibly hard over the summer and I know they have been itching to compete again," said Schmid.
"The atmosphere within the squad is great. We shouldn't go into the race with too high expectations but it is important to have a solid start to the season on what is a difficult track.
'We've had some good performances in training and on the other circuits so far but this is our first chance to see where we are at the highest level. It's made even more exciting by the fact that Lizzy is returning and Jack is ready for a great World Cup experience, plus we're now only 14 months away from the next Winter Olympics.'
World Cup Race 1: Whistler, Canada
Skeleton race times (all times are GMT)
Fri 2 Dec
Women's Skeleton 10pm
Sat 3 Dec
Men's Skeleton 6pm
The action will be live on the International Bobsleigh & Skeleton Federation website and via their You Tube channel.
You can also receive regular updates via our social media channels: @the_bbsa on Twitter and BritishBobsleighandSkeleton on Facebook.