Yarnold aiming for Olympic history after announcing season-long break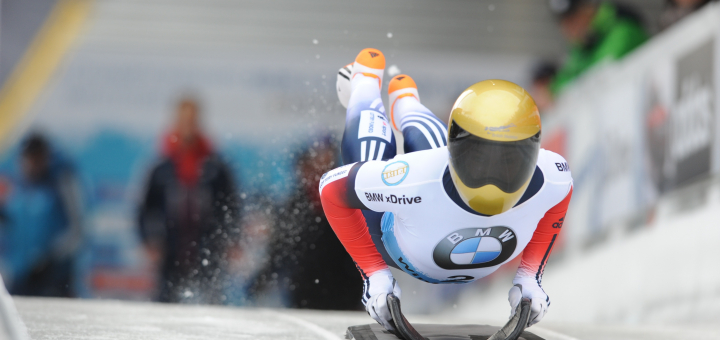 Olympic Champion Lizzy Yarnold is taking a season-long break from competition but will return to skeleton in the hope of becoming the first slider and the first British Winter Olympian to defend her title in PyeongChang in 2018.
Yarnold, who claimed gold for Great Britain in Sochi in 2014, has already created history this year by completing the career Grand Slam of skeleton titles in a mere 407 days.
The 26-year-old, who will still be training in the UK throughout the coming season, added World Championship gold in Winterberg to her European crown and the previous season's overall World Cup title to cement her status as one of the nation's leading sporting stars.
And with that incredible achievement now under her belt, Yarnold will take a season away from the skeleton circuit this winter before returning to the sport with the aim of becoming the first-ever double Olympic winner.
"I'm really pleased my coaching team and I have decided that I should remain in the UK this season," said Yarnold.
"Coming off the back of my win in Sochi it was hard to re-motivate myself, but I had the Grand Slam in my sights and wanted so desperately to be World Champion that it saw me through. It wasn't until I returned home that I realized I was emotionally fatigued - more than the usual end-of-season exhaustion - so I asked my team if we could approach this year differently.
"Naturally I would have loved to defend my World title this year, and it will be hard to watch others compete without me, but I really feel like this is the right time for me to refresh, take stock and come back even more motivated for the future."
Yarnold will remain in training in the UK but will not be involved in the eight World Cup races and annual World Championships in 2015/16.
The former BBC Sports Personality of the Year nominee, who began her skeleton career in 2008 and was awarded an MBE for Services to Sport in June of last year, insists she has no intention of letting her standards slip during her season off and is confident she can return to the circuit better than ever before.
"I have a training programme set for me over the winter so I will still be working hard even though I won't be on the circuit. I won't be putting my feet up and relaxing, unfortunately!
I'd like to thank my coaches, the BBSA, UK Sport and the National Lottery for their ongoing support - it is great to know they have faith in my ability and in my motivation as an athlete to know what I need to do to get my body and mind fit for the next Olympic cycle.
Yarnold accepts that other British sliders will be desperate to catch her up in her absence, with Laura Deas having finished fifth in last season's overall World Cup campaign and seventh in the World Championships, while Donna Creighton won the Intercontinental Cup title and Jor'dan McIntosh has made a remarkable recovery from brain surgery and is keen to make up for lost time this term.
"I have no doubt the British Team will do brilliantly this year. I'll be cheering them on from back home and genuinely hope Laura, Donna and the guys all progress and fulfil their potential. I thrive off having intense competition and knowing that people can beat me if I put a foot wrong. It helps spur me on to be the best that I can be and I know that if the competition improves during this season it will help me be a better competitor when I get back on ice."
The British Bobsleigh & Skeleton Association and the British Skeleton Performance Programme are fully behind Yarnold's decision, with Performance Director Andi Schimd in no doubt that the move will bring rewards when she returns to competition.
"We fully support Lizzy's desire to take a season off from competing," said Schmid. "UK Sport are aware of the decision and we are very grateful for their continued support.
"Lizzy has already achieved some amazing things in her career and I am sure there is plenty more still to come. She has worked incredibly hard to reach the top of the world since joining the British Skeleton Programme seven years ago and taking a season away from competing will help her recharge her batteries and come back refreshed and ready to kick on in the lead up to PyeongChang.
"Although Lizzy won't be competing this season, she will still be training hard from the UK. We have worked closely with Lizzy to devise a training schedule that will see her return to the team in the best possible shape next summer.
"We have an impressive degree of strength in depth within the squad and are confident that we will still be competing for podium places this season. Laura Deas was in outstanding form last season and we believe she will push on again this time around after picking up a brace of medals on the World Cup circuit in Calgary and St Moritz. Donna Creighton has shown she will also be a force this year after winning the ICC title and we are very excited to see Jor'dan McIntosh back in action after her injury."