World Cup bobsleigh round up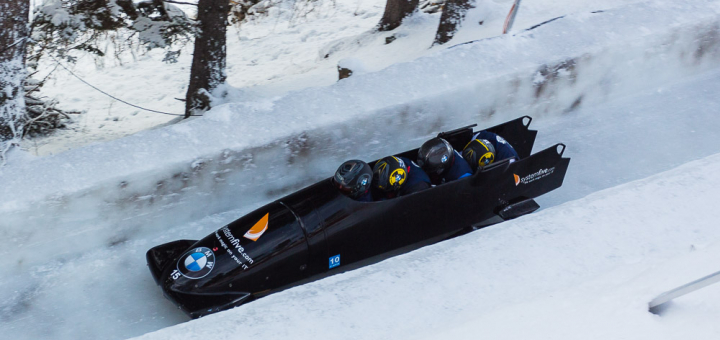 This weekend's World Cup bobsleigh races saw five Great Britain crews in action ahead of next week's World Championships.
Female duo Mica McNeil and Natalie DeRatt finished joint 11th after a strong second run in St Moritz on Saturday, while male crews Brad Hall and Ben Simons and Bruce Tasker and Joel Fearon were 18th and 24th respectively in a large 2-man field at the home of sliding.
Sunday's 4-man race featured a 19th-place finish for John Jackson, Hall, Tasker and Simons as Lamin Deen, John Baines, Fearon and Andy Matthews just missed out on a second run in 21st.
The races doubled as the European Championships, with McNeil and DeRatt finishing joint seventh, the 2-man crews 14th and 17th and the 4-man teams 17th and 18th in the continental competition.
"The results weren't what we were hoping for but we have learnt a huge amount and will take that into next week's World Championships," said GB Bobsleigh Performance Director, Gary Anderson.
"Everything we have been doing over recent months has been geared to performing in Austria and we're confident these athletes will do just that. We know exactly what we need to work on to be higher up the leaderboard and you can see how desperate the guys are to make sure they have more to cheer about over the next two weeks.
"The heavy snow made things difficult for us in the 4-man races in particular - as it has done on a couple of occasions recently - and we tried a number of new things in terms of our equipment that didn't work as well as we would have liked. We set ourselves extremely high standards and have fallen short here but we will take a step back, regroup and get ready to go again in Igls.
"The World Championship track is a very different one to the track we raced on this weekend - it's much shorter and the start carries much greater significance. We leave St Moritz with the start record for the 2-man and second fastest start time for the 4-man and we will look to repeat that feat in the World Championships."
McNeil and DeRatt were 13th overall after Run 1 but went almost eight tenths of a second quicker second time around to close the gap on those above them.
America's Elana Meyers Taylor and Lauren Gibbs won women's World Cup gold, with Germany's Anja Schneiderheinze and Annika Drazek claiming silver and the European title and Canada's Kaillie Humphries and Melissa Lotholz taking bronze.
In the men's 2-man race, Tasker and Fearon equalled their own start record of 5.10 seconds but narrowly missed out on the top 20 and a second run.
Hall and Simons beat their British team-mates by two tenths in Run 1 and then produced a near identical performance second time around to finish just under a second outside the continental medals.
Both 4-man crews had impressed in training but they were unable to challenge race winner Max Arndt as he cemented his lead at the top of the world rankings.
World Championships
All five crews will compete in the World Championships in Igls, with the women in action at 3.45pm GMT on Friday, February 12 and 2pm on Saturday 13 and the two-man sleds taking to the ice at 8.30am on that Saturday and at the same time on the Sunday.
The men's 4-man race takes place the following weekend, with GB looking to improve on their fifth-place showings at the last three global Championships.