Top ten again for Parsons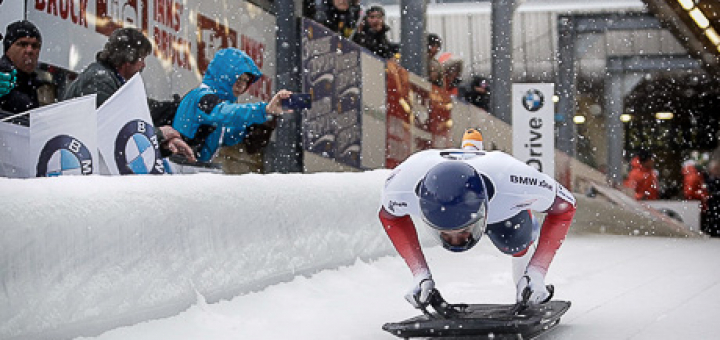 Great Britain's Dominic Parsons finished in the top ten of the World Championships for a third successive occasion on Friday, with fellow Brit David Swift 16th in Igls.
Parsons maintained his overnight position of 10th, with the seventh and 12th best runs respectively in Heats 3 and 4, as Latvia's Martins Dukurs ran away with gold for the fourth time in five attempts.
Swift made steady progress in each of his runs, jumping from 23rd to 18th to 17th and then his final position of 16th at the track where he won Junior World Championship silver back in 2008.
"I know that both athletes were hoping for a little bit more, but it was a difficult race and there are plenty of positives," said Great Britain Skeleton Advisor, Andi Schmid.
"Dominic knows that his push time isn't the most exciting at the moment after his ankle injury, but we know what we have to do for the next two years before the Winter Olympics, and the future has already started.
"We are all aware that he needs to improve his push time but, if he can do that, big results are definitely possible as his driving was very solid. I'm confident that he can do that.
"When you make a mistake right after the start in your first run, like Swifty did, and you have to fight back the whole time, that isn't the position you want to be in, but he did will to come back.
"His push times are absolutely fantastic and sliding wise he improved a lot again today. But what the race showed is that the world is quite close together, so if you are a few tenths of a second off early on, it can make a big difference. It could be the difference between top ten and 16th."
Russia's Alexander Tretiakov and South Korea's Sungbin Yun shared the silver medal, 1.13 seconds back from the impressive Dukurs, with two Germans, two Americans, a second Latvian and another Russian athlete completing the top ten alongside Parsons.
World Championships (Igls, Austria). Men: 1 M Dukurs (LAT) 3m 28.84s (52.14s, 52.50, 52.11 & 52.09); 2= A Tretiakov (RUS) 3-29.97 (52.49, 52.68, 52.32 & 52.48); 2= S Yun (KOR) 3-29.97 (52.57, 52.62, 52.37 & 52.41); 10 D Parsons (GB) 3-32.29 (53.12, 53.22, 53.07 & 52.88); 16 D Swift (GB) 3-33.20 (53.74, 53.33, 53.03 & 53.10)
The women's skeleton concludes tomorrow morning from 8.45am GMT, with the action live on BT Sport Europe and via the BBC Red Button, with a repeat on the latter at 12.30pm. Britain's Laura Deas and Donna Creighton are 11th and 17th respectively.