Top six for Yarnold & Deas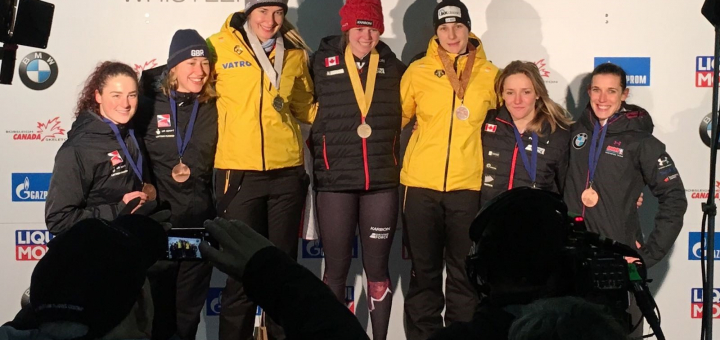 Olympic Champion Lizzy Yarnold missed a bronze medal by just one hundredth of a second on her return to the international skeleton circuit.
Yarnold, who took a season away from the ice after winning World Championship gold in Winterberg in March 2015, finished fourth in the World Cup opener in Whistler on Friday night.
Fellow Brit Laura Deas made it a brace of wider podium places for the team by coming tied sixth in Canada as home slider Elisabeth Vathje claimed her second World Cup win.
Reigning World Champion Tina Hermann pipped Yarnold to bronze by the smallest of margins, with fellow German Jacqueline Loelling securing silver.
"I wasn't sure how I'd get on in whistler after mid-field training times," said Yarnold.
"Eric (coach, Eric Bernotas) and I worked so hard for weeks for this result, doing everything we could to ensure my best performance, and we've had brilliant fun doing it.
To know that I can bring it on race day is a big confidence boost. 
"Fourth place is job done - I've conquered the whistler track once more! Thanks to all of the team for their hard work."
Both Brits produced remarkably consistent times across the two runs, with Yarnold clocking 55.03 & 55.09 seconds and Deas coming down in 55.30 & 55.36.
Deas, who won gold and bronze medals on last season's circuit but has highlighted her desire to become more and more consistent as she builds towards the next Winter Olympics in 14 months' time, was equally pleased with her opening week's work following another summer of hard graft.
"I'm very pleased with how that went," added Deas.
"Whistler is a very tough track to start the season with. It asks a lot of questions of a slider and I was very happy to be able to go out there and produce two consistent runs and nail the starts as well.
"I knew I'd had quite a good first run so I just wanted to back that up in the second. I wanted to carry that start speed all the way down the track because there are so many places in Whistler where you can lose speed if you make a mistake.
There were plenty of smiles from the British team in Whistler 
"It's great to be back competing. It feels like it's been a very long time coming, but this week has actually gone really fast. It's nice to see everyone from the other nations again and it's good to be back doing what we do best.
It's also great to be sliding with Lizzy again. We've had a really good vibe in the team and we help each other and push each other on.
"It was awesome to see her come back after her break and do so well."
The men's race takes place tomorrow at 6pm GMT, with Dom Parsons and Jack Thomas in action for GB.
Yarnold and Deas will next be competing on December 17 when the circuit switches to Lake Placid in New York State for Round 2.
World Cup (Whistler, Canada). Women: 1 E Vathje (CAN) 1m 49.25s (54.52s & 54.73); 2 J Loelling (GER) 1-50.09 (54.76 & 55.33); 3 T Hermann (GER) 1-50.11 (54.99 & 55.12); 4 L Yarnold (GB) 1-50.12 (55.03 & 55.09); =6 L Deas (GB) 1-50.66 (55.30 & 55.36)