Tasker primed for pilot duty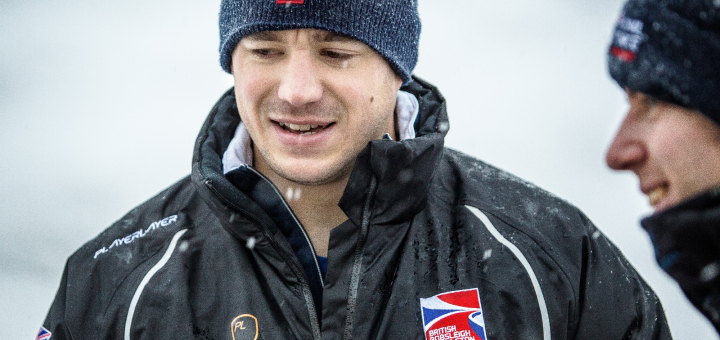 Bruce Tasker is ready to spearhead Great Britain's 2-man bobsleigh challenge in Igls tomorrow as he switches from brakeman to pilot for the first time at a World Championships.
Tasker, who was part of the 4-man team that finished fifth at last year's global gathering in Winterberg and the 2014 Winter Olympics in Sochi, will drive GB1 in Austria as he continues his impressive progress as a pilot.
The 28-year-old Welshman and 4-man team-mates Brad Hall and Ben Simons are all part of GB Bobsleigh's Accelerated Driver Programme (ADP) aimed at turning the nation's top push athletes into pilots ahead of the Olympics in Pyeonchang in 2018 and Beijing 2022.
Tasker was sixth in St Moritz with Joel Fearon last weekend and he now has his sights on producing four consistent runs when the action gets underway at 8.30am GMT on Saturday.
"The week's build up has been good: training times have been promising, we've tested some equipment and we feel like we're going into the race with all options covered," said Tasker.
"It's been nice to pair up with Joel again. We had some good runs in St Moritz last week and we put together some good start times - our start record there still stands. It was a shame not to hang on to the second place we held after Run 1 but I was really pleased to come away with my first medal (medals are given for placings 1-6).
The key thing this weekend is consistency. I'm looking for four consistent runs on Saturday and Sunday.
"That's the main aim for a pilot with my level of experience. If I can produce four consistent runs, hopefully that will produce a result that I'm happy with.
"I definitely feel like we're making good progress. The programme is designed to be an accelerated process, hence the name. The aim is to get as many runs as we can down as many new tracks as possible, and that aim was achieved before Christmas with the three German tracks. That's the way to progress - you have to get as much experience as possible."
Switching from brakeman to driver, and then back again for the 4-man event, takes a truly focused and determined athlete, and Tasker admits that the difference between the two is a distinct one.
"The difference is huge, and most of that is mental," added Tasker, who will turn his attentions to next week's 4-man event as soon as the 2-man race is over.
The sled prep is the same and we all take part in that, but the mental preparation is completely different.
"When you're breaking, you can focus entirely on the push. That means you can be as stimulated and as excited and as pumped full of adrenalin as possible, whereas as a driver has to get pumped up for the push but then be able to switch from brakeman to pilot mentality straight away. You need that focus to drive the sled down the track, so your approach beforehand is much more measured."
Tasker and Fearon will go off 23rd in tomorrow's opening 2-man run, with Hall and Simons partnering up and starting one sled ahead of them in a 32-strong field.