Tasker & Fearon in top six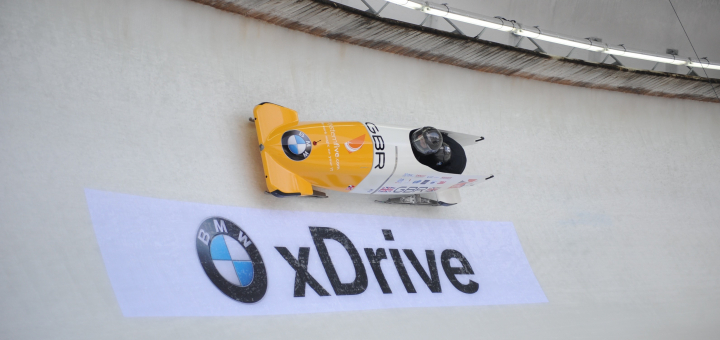 Great Britain Bobsleigh enjoyed a superb start to the 2-man World Championships as Bruce Tasker and Joel Fearon finished the day in the top six.
The pair sit just two tenths of a second outside the medal places in Tasker's debut global gathering as a pilot and are already ahead of the likes of World Cup leader Yunjong Won, former World Champion Steven Holcomb and reigning 4-man World Champ, Max Arndt.
Runs 3 and 4 follow tomorrow morning and, while the job is only half done, Tasker and Fearon are more than satisfied with their first day's work.
"I'm absolutely delighted with that so far. I said before the start that the aim was consistency. We delivered two consistent runs and now we're in sixth spot overnight. The goal was to be in the top ten and we're achieving that so far," said Tasker, who was a brakeman alongside Fearon at the last Olympics but is being fast tracked to the front of the sled as part of GB's Accelerated Driver Programme (ADP).
That first run was the one that we really needed today to get us in the mix - we jumped from a starting position of 23rd to 10th and managed to get into the running for the good ice with the top guys.
"It's a starters track and we're starting up there in the top three. I'm just glad that my driving is holding up and we're finishing in the kind of position that we're starting.
"There's a few big names behind us and, although we're only halfway, I'm very happy so far. I hope that tomorrow we can deliver two more consistent runs and keep it going."
Fearon, who featured for GB in the 4x100m relay at the 2013 athletics World Championships and has clocked a personal best of 10.10 seconds, only returned to bobsleigh at the end of the summer after a year out and he admits that days like today make the decision to come back more than worthwhile.
"It's even more than I'd hoped for. We've had some really good results this year - I've already achieved all my objectives and I'm here enjoying myself and pushing alongside a great friend," added Fearon, who believes there is more to come tomorrow.
"I'm very happy with today and I'm very proud of my boy Bruce. We've been through a lot together and it's a real pleasure to push alongside him again.
"The feeling is exactly the same as when we were together in the 4-man - I used to follow him in, so I just do the same thing now and it seems to work quite nicely!
"It was a quicker start second time around (5.06 seconds after a 5.10) but I still think we've got a little more in the tank."
Tasker and Fearon were in fine form on Saturday (c) Charlie Booker
Fellow Brits Brad Hall and Ben Simons are also on target to hit their objectives as they finished Saturday inside the top 20.
Like Tasker, Hall and Simons are both part of the ADP, with Hall driving at the World Championships for the first time, too.
Hall and Simons are 0.98 seconds behind race leader Johannes Lochner, with Tasker and Fearon just 0.37 seconds back from the German, and GB Bobsleigh Performance Director Gary Anderson sees plenty of positives all round heading into Day 2.
"For Great Britain to be amongst these top guys in the 2-man at half-time is an amazing performance. We knew that Bruce and Joel were capable of very fast starts here but Bruce is driving like a veteran. This is just his second year of driving, he's up against World Champions and Olympic medalists and he's in the mix.
"It's been a really pleasing performance from Brad and Ben as well. To be inside the top 20 is a great effort. Brad's produced some very solid driving; they've put together two very good starts, and they're showing that the ADP initiative really is the way forward.
"To be doing this well at a World Championships, on this track, against the quality of teams we're up against, is a fantastic achievement so far. But it is only halfway and we have to do it all over again tomorrow."
The 2-man action returns tomorrow morning at 8.30am, with the races live via IBSF.org.