Tasker & Fearon best for 50 years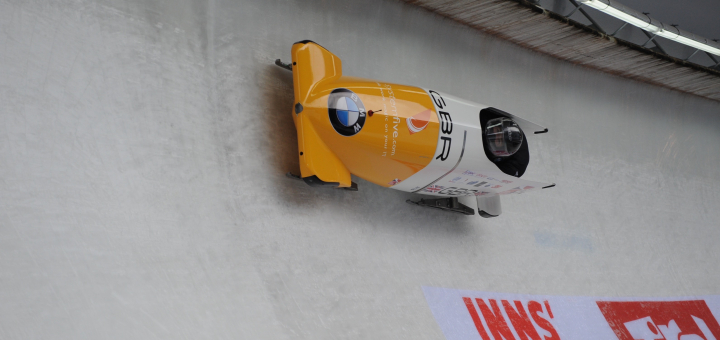 Bruce Tasker and Joel Fearon produced Great Britain's best 2-man bobsleigh result for 50 years as they finished fourth in the World Championships on Sunday morning.
The British pair jumped up two places from sixth overnight to end just two tenths of a second outside the medals on a momentous day for GB Bobsleigh in Igls, Austria.
You have to go as far back as the 1966 World Championships in Cortina to find a better 2-man result for GB, and that's despite the fact that Tasker was competing at his first global gathering as a pilot.
"I still can't believe it - I'm pinching myself," said Tasker, who is only in his second year as a pilot and still competes as a brakeman for the 4-man team.
"It's amazing to know that is our best result since 1966: I don't really know what to say to that. I've had my ups and downs this season and I'm just glad to get it right on the day.
"All I wanted was four consistent heats, and I knew if I got that I'd end up with a result I'd be happy with. The result that we did end up with was far, far better than I could ever have imagined and I'm absolutely over the moon.
There are some huge names in that list of sleds below us: Oskars Melbardis is a hero of mine as a brakeman turned pilot so to be one place ahead of him is just phenomenal.
"We've been searching for two-man results for a number of years now: we've had some highs and lows in 2-man and we've been known as a bit of a 4-man nation. We're trying to change that with our Accelerated Driver Programme initiative and this is more confirmation that the programme is working."
Fearon, who represented GB at the 4x100m relay in the World Athletics Championships in 2013 and has a personal best of 10.10 seconds, only returned to bobsleigh at the end of the summer after a year back in athletics.
A 4-man Olympian alongside Tasker in Sochi, he admits that excelling this swiftly in the 2-man is beyond any expectations he had prior to re-joining the fold.
"It's one of my best bobsleigh moments ever. I couldn't have even dreamed about this when I decided to come back to bobsleigh," added Fearon.
"It's surreal - it's better than any dream I've ever had - and we can still get better at the start so I hope there's more to come.
"I'm very proud of Bruce. I'm honoured to be a part of this team and I'm just so happy that things are moving forward in this year.
"I can't wait to get back to my wife and kids now and celebrate with them. This is a Valentine's Day present for my wife Jemima!"
Tasker and Fearon made history in Igls on Sunday (c) Charlie Booker
Germany's Francesco Friedrich and Thorsten Margis won gold ahead of compatriots Johannes Lochner and Joshua Bluhm, with Switzerland's Beat Hefti and Alex Baumann pipping Tasker and Fearon to bronze.
Brad Hall and Ben Simons also impressed for GB as they finished 17th in what was also Hall's debut World Championships as a pilot.