Talent team given inspired talk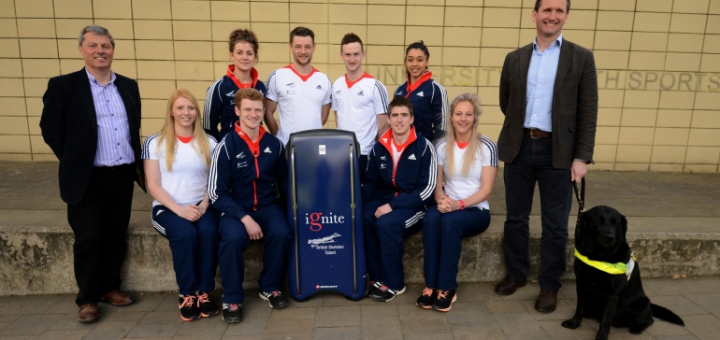 The next generation of British Skeleton athletes began their first UK training camp this week by being given major Games inspiration from Talent Squad sponsors, Ignite, at The University of Bath.
Great Britain's most successful Paralympic swimmer, Chris Holmes, who is Director of Insight and Innovation, and Director and co-founder of the company, Mark Smith led the Ignite team.
All the athletes and coaching staff were in fine spirits ahead of the week long camp at the home of British Skeleton as they enjoyed a 'Meet the Team' press day, as well as a lunch with the sponsors.
Holmes, who won 15 Paralympic medals during his career, including an incredible nine golds, commented on the support Ignite provides the Talent Squad, saying: "It's brilliant to be involved at the talent level. I think when I was competing, if there'd been a company like Ignite that was interested in me it just gives you that extra boost - that extra sense of "Yes, I've got my dream but others are backing me as well" and it almost gives you the feeling of having another member of the team, supporting you along the way".
Holmes, now Lord Holmes of Richmond in recognition of the work he did as Director of Paralympic Integration at London 2012, added: "It's a fantastic sport and I'm delighted to be a part of it. It's brilliant to be back here in Bath as well - I've been coming here for the last 18 years since it opened and you can't help but feel the environment here says, "We are about sport and excellence within sport" - it's a fantastic environment for these guys to be based in and it's great to be able to support them along their journey to get on the World Class squad, with success at the 2018 & 2022 Games the ultimate goal".
Smith also commented on the day spent with the Talent Squad, saying: "It's been fantastic. This is the second batch of Talent Squad athletes that we've been supporting, so we've seen the first group graduate and start getting onto the international circuit, start medalling and getting onto the podium, which is brilliant. Now we've got the new set and they're a lovely bunch of athletes. It's great seeing them come through the whole process - they're really excited about it and we're equally excited".
The eight athletes were selected from over 1,000 applicants to the Power2Podium talent search delivered by the UK Performance Pathway (a collaboration between UK Sport and the EIS), which began after Lizzy Yarnold's Olympic gold medal at Sochi 2014.
The goal was to search for potential skeleton athletes who could compete at the 2022 Olympic Games, and following several phases of physical, sport specific and, psychological testing, British Skeleton now have a Talent Squad which they feel can deliver even more success at the highest level.
Chris Gray, 21, from Leeds, spoke about how his experience has been so far since being selected for the Talent Squad, saying; "It's been really great. To go out to the Ice Camps together as a team and getting to know each other has been great, then obviously getting to slide on different tracks as a squad and work together to achieve our goals has been really good. From the sliding side of things, the more experience you get in our sport the better you get, so that has been hugely beneficial as well".
The atmosphere within the squad is a happy and positive one, and Tim Hull, 23, from Stoke-on-Trent, commented on the importance of the Talent Squad being a collaborative effort between all the athletes to help improve each other's performance: "I think working together as a squad is massively important. Given that there were over 1,000 applicants, for us eight athletes who have been selected to get on so well, to be able to support each other and help with each other's strengths and weaknesses, it's amazing. We worked with the Europa Cup guys for a bit as part of the selection process and you could see a great atmosphere within that squad and it's been the same with us - it's a massive help".
Having been on the ice just once during the testing phase, in Lillehammer, the squad then travelled out to their three Ice Camps with much to learn about the sport of skeleton and the daunting task of traveling at full speed down an ice track for the first time on the horizon.
20-year old Brogan Crowley, from Saddleworth in Oldham, commented on the challenges she faced and also the benefits she gleaned from her previous sport of heptathlon, saying; "For me, coming from an athletic background doing heptathlon, I found it quite easy to get used to the environment - being away traveling and having to get yourself in to the right frame of mind. So the concentration element I found quite easy.
"In terms of things to work on, I probably just need to have more confidence in my ability and belief in myself. Obviously it's quite a dangerous sport so if you let that get the better of you it can damage your confidence, so it's important to be aware of that and maintain the right attitude".
With a place at the 2022 Olympic Games a tantalising prospect for this group of athletes, Marcus Wyatt, 23, from Honiton in Devon, described some of his goals for this early stage in his career, saying: "Hopefully from this week's camp, where we're doing a lot of testing, we'll set base line figures for sprinting and jumping. Then it's a case of hitting the gym hard to improve strength and fitness. Personally I'm trying to eat clean and look after myself recovery-wise - I'm really trying to just become a model professional, that's what I want to be, to give myself every opportunity to be the best athlete that I can be".
The goal of honing their talents and developing as an athlete combined with the opportunity to represent Great Britain was another aspect that many of the new Talent Squad sliders were drawn to when applying for the Power2Podium scheme, as former footballer Craig Thompson, who is from Swindon, described: "Honestly, it [the attraction to skeleton] was to represent my country - that was my dream and has been for my whole life, to be an athlete and represent my country. Football was my main sport but I wasn't good enough to do that so I had to find different routes of getting there to make my dream a reality and this was the opportunity which came up, and I'm so glad it has.
"It's been quite surreal actually. It's all happened so fast, and compared to last year when I wasn't doing anything remotely elite sport-wise to now, representing Great Britain - I can still hardly believe what's actually happened. It's been a lot to take in but it's been amazing so far".