Swiss camp a success says Anderson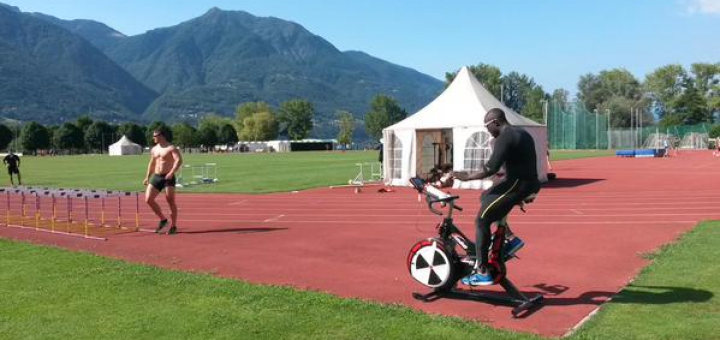 Last week's summer training camp in Switzerland has put British Bobsleigh on track for success this season according to Performance Director, Gary Anderson.
Anderson's squad spent 10 days in Tenero in the Locarno district and in Andermatt in the Ursern Valley in the Adula Alps as their preparations for the winter continues to gather pace.
Coach Chris Woolley and co took a party of 15 athletes through a grueling campaign of sprint sessions, roll bob work and outdoor and indoor gym routines in Tenero before heading up to Andermatt, where they put that work to the test with sled sessions on the push track.
And with plenty of positive feedback and a raft of personal bests in testing, Anderson is happy with how his programme is shaping up ahead of the first race of the season in three months' time.
"The Swiss camp met all its objectives and there was lots of positivity from the athletes and the coaches," said Anderson.
"The athletes were delighted with the facilities that we put in place and the training programme that was put together by the coaches, while Dominik Scherrer, our head coach, is already looking forward to returning there later this summer to undertake the same process again.
While we were there, we had our mid-summer evaluation where we assess every single athlete for their physical capabilities and we were really pleased with the scores that were put down. That bodes well for the season ahead.
"It's confirmed our belief that we are in a better position than we were 12 months ago, although that's what we expect as we progress through the Olympic cycle."
And it wasn't just in the sessions or the scores that Switzerland proved a success according to Anderson: culture is also key as the squad get set to compete for starting sports in the four and two-man crews this season.
With the battle for places tougher than it has ever been before, building a strong team ethic in the summer is essential when it comes to getting results on the ice in the winter.
"We are always looking at creating a culture and an environment in which the athletes can flourish," added Anderson, who believes that heading to a new location that takes athletes out of their comfort zone is another vital team-building tool.
"We aren't a centralised programme so we have athletes who are based all around the country and we feel it is sometimes right to take them out of the environment they would normally train in, bring them all together, away from any distractions, and have them in one place in a world-class facility where they can concentrate totally on the job in hand.
"It's not just the physical training that they undertake on a three-session-a-day basis, it's also about passing on information and strategy and working on selection and the formation of teams. That's not always possible when we are in a UK location.
A camp like this takes the athletes away from what they are used to and focuses their minds on the job in hand. Doing this once every six weeks is critical to how we work.
"It also helps with team building. When you go into your normal workplace there are other pressures around you and other things you have to deal with and that means you don't always have the opportunity to spend quality time with your work colleagues. When we go to these camps abroad, everything is put in place for the athletes - all they have to worry about is turning up and training hard. And the down time is just as important as the training time: they have to engage with their team mates.
"Doing that is difficult in bobsleigh because it's not like taking a football or rugby team away together where everybody has the same objective. We do a lot of work in that area where they have to train together and live together, but we also have to be mindful of the fact that, when they are on the ice, on the push track or undertaking their assessments, they are competing against each other.
"We're not only asking them to compete against the Germans, the Latvians, the Russians, the Americans and the Canadians, we're also asking them to compete against each other. We are a crew sport, but it's a very small crew when you compare it the size of the squad we have."