Swift excited by Igls return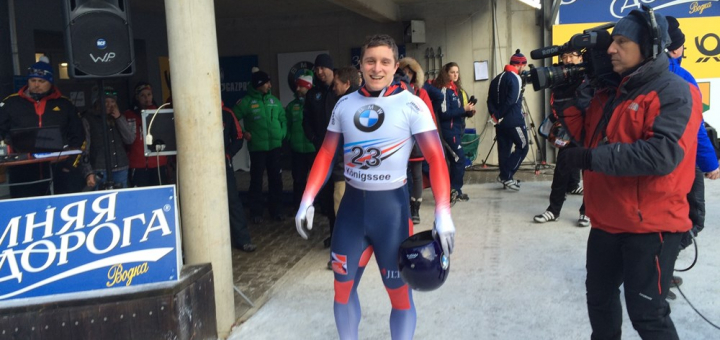 David Swift has a history of impressing in Innsbruck and he is hoping to repeat the feat when he takes to the ice in the World Championships this Thursday.
The GB Skeleton slider won Junior World Championship silver at the Igls track in 2008 and recorded his best-ever World Cup result at the same venue last season.
The nature of the double-Winter Olympic venue favours his approach and, after some ups and downs in recent seasons, the 31-year-old has headed to Austria in high spirits.
"I had a good result in Innsbruck last time out when I finished seventh. That was my best World Cup finish so it bodes well to be going back to a track that I'm historically quite good at," said Swift, who is part of a 4-strong GB Skeleton team alongside Donna Creighton, Laura Deas and Dom Parsons for 10-day long World Championships.
"I do feel like I could surprise a few people, although it would probably be a bit less of a surprise after that World Cup result last year.
"It suits me in that it's a pusher's track and I'm in the top few in the world push-wise. It's quite a short track and it's also a glidey-type track rather than a harsh driving track.
I won silver there at the World Junior Championships so I've got a lot of confidence going back.
"The season has been a bit of a mixed bag for me. In the second part of the season I started off on the Intercontinental Cup instead of the World Cup and that's worked out quite well as the first two ICC races I did were in Igls, so I've raced the track already this season. I'm familiar with the track and that's a positive for me."
David Swift has had success in Igls in the past (c) Charlie Booker
Swift tasted international gold for the first time three weeks ago as he won the Europa Cup race in St Moritz - a result that he admits was a long time coming but one that has given him a big boost ahead of the current global gathering.
"It was a nice feeling and a definite positive coming just before the World Championships," added the former international level sprinter, who joined the GB programme nine years ago.
"Historically, I train very well but struggle slightly with racing. That might have been a case of race day nerves or trying too hard so we've tuned a few things in terms of how I set myself up.
"As a push athlete, you orientate more towards a sprinter's mentality which can be more pumped up, but the actual driving of the sled is meant to be very calm and collected and Zen like. That transition is something that I've had to really work on, and that's triggered an upturn in results.
"My form has been picking up again over the last couple of seasons. There is a point where you start questioning yourself and start thinking, 'Am I good enough to be doing this?' but I've bounced back from that and come out the other side. I'm hopeful I can get a really good result here and kick start the charge to the Olympics in 2018."
Swift starts his campaign from 8.30am GMT on Thursday, with Runs 3 and 4 following on Friday at 2.30pm.