Superb start for 4-man crews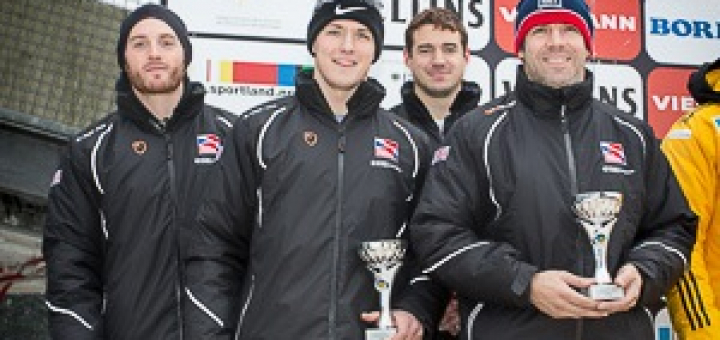 Great Britain Bobsleigh enjoyed a memorable start to the 4-man season on Sunday as they won European Cup silver and finished sixth in the first World Cup event of the year.
Lamin Deen led Joel Fearon, John Baines and Andrew Matthews to a fine finish on the World Cup circuit despite having never previously driven the tricky Altenberg track, while John Jackson marked his return from serious injury with a superb drive alongside Bruce Tasker, Ben Simons and Brad Hall in tough conditions in continental competition in Winterberg.
"It's been a super Sunday for the squad on both circuits," said GB Bobsleigh Performance Director, Gary Anderson.
To medal this early in the season and on a track that the Germans naturally excel on is a huge positive for Jacko, Bruce, Ben and Brad.
"Heavy snow, high winds and lots of rain made conditions incredibly difficult but they performed when it really mattered and sent out a message to all the other nations that we intend to be challenging for the podium wherever we race this season.
"For Lamin to finish sixth on what was his debut 4-man drive at one of the toughest tracks in the world was another big boost for him and his crew. It's exceeded our expectations for this stage of the season and it sets us up nicely to push on in Race 2 and Race 3 in Germany over the next two weekends."
Jackson missed the entire 2014/15 season with the Achilles problem that had plagued his build up to the Sochi Winter Olympics but he and his GB crew were the only sled to prevent the Germans taking a clean sweep of the European Cup medals on their home track.
The result was even more impressive given that Tasker, Simons and Hall had all been racing as pilots this weekend as part of their continued development on the Accelerated Driver Programme. The trio twice took part in the 2-man events at the same track but had no difficulties switching back into brakeman mode for the main event.
Deen finished his first-ever competitive 4-man run at Altenberg in fifth place on Sunday morning and backed that up with another fine drive as conditions deteriorated for the final run of the World Cup weekend.
The 34-year-old matched Jackson in finishing fifth in the World Championships last season and was just 0.02 seconds behind the fifth-placed Latvian crew this weekend, with a trio of Germans taking the top three spots and the Swiss finishing fourth.
"Having never driven that track before, to have a top 10 finish came as a bit of a surprise," said Deen.
"It was very challenging just learning the track - when we were there two weeks earlier for training, the track was very different - so it was a steep learning curve.
We've got a brand new crew and we've never raced all together and we're just trying to gel. We saw a few problems in the first heat and we identified those, ironed them out and dropped our start time by eight hundredths of a second.
"We're all friends and I know what these guys have got. We're taking each race as it comes but we're hoping good things are in store for us over the next few weeks."
Fellow Brits Olly Biddulph, Justin Oro-Campos, Ashley Watson and Judah Simpson also completed two runs on the top circuit in Altenberg, with Biddulph's all-junior crew finishing 18th.
WORLD CUP (Altenberg, Germany) 4-man: 1 F Freidrich (GER) 1m 51.79s (55.81s & 55.98); 2 N Walther (GER) 1-51.88 (55.65 & 56.23); 3 M Arndt (GER) 1-52.03 (55.75 & 56.28); 6 L Deen (GB) 1-52.82 (56.33 & 56.49); 18 O Biddulph (GB) 1 -54.36 (57.13 & 57.23)
EUROPEAN CUP (Altenberg, Germany) 4-man: 1 J Lochner (GER) 1m 51.29s (55.60s & 55.69); 2 J Jackson (GB) 1-51.88 (55.65 & 56.23); 3 F Wagner (GER) 1-52.26 (56.15 & 56.11)