Strong start to 4-man campaign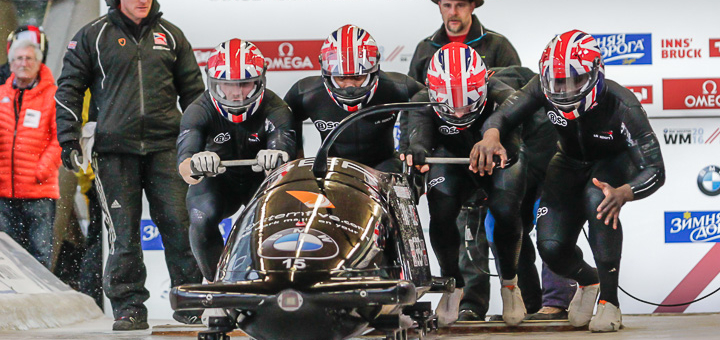 Great Britain ended the opening day of 4-man bobsleigh action in the hunt for a first World Championship medal in 77 years on Saturday afternoon.
Lamin Deen, Ben Simons, Bruce Tasker and Joel Fearon finished the first two rounds in fourth place, just two hundredths of a second from a bronze medal and three hundredths from silver.
Deen and co jumped up from sixth to fourth with the second quickest time of Run 2 and more of the same when the race returns tomorrow afternoon could see them become the first British 4-man crew to medal at the World Championships since Frederick McEvoy piloted GB to silver in Cortina in 1939.
"We started Run 1 from eighth and said we wanted to move up a minimum of a couple of places, and we did that. We then fought hard in Run 2 and jumped up another two," said Deen, after his crew recorded the fifth and third best start times of 5.00 and 5.02 seconds in snowy conditions in Igls, Austria.
"Hopefully, conditions will be clear tomorrow and we can really show what we've got at the start because the snow did hinder us, as it did everybody else.
"We've proved where we are as a crew in training with our starts, so hopefully we can drop below five seconds tomorrow and make it count down the track."
Those sentiments were echoed by former Wales international sprinter Simons, who knows that small margins can make a big difference in bobsleigh - a statement backed up by the fact that positions two to six are separated by just six hundredths of a second.
"This sport is a game of inches, it's about hundredths of a second, and tomorrow is about executing again and trying to keep picking off spots," said Simons, who finished fifth alongside Deen and Tasker in the same competition in Winterberg 11 months ago.
"We're around the area we want to be in terms of start time and hopefully we can knock a little more off that tomorrow and claw back that time from the sleds above us."
Deen, Tasker, Simons and Fearon impressed on Saturday (c) Mike Varey
Tasker and Fearon finished fourth in the 2-man competition last weekend - the nation's best result in that discipline for fully 50 years.
The confidence that success brought to the camp has been clear for all to see but Tasker insists the mentality of getting things right from the off was exactly the same seven days later.
"It was the same situation as the 2-man - we knew we had to start fast so that was our focus," said Tasker.
"We had a solid first run that put us in the mix and we really fought hard in difficult snow conditions to get a decent start in the second run when many of the other teams were dropping off. I'm happy that we improved our start time position on the second run because it's difficult to do that some times.
"The key now is to keep improving. We need that start and we're hoping we can do as Lamin says and dip under that five second mark tomorrow."
Fellow Brits John Jackson, Brad Hall, John Baines and Andy Matthews also jumped up the order after two solid runs as they hit the halfway stage of the competition in 13th place.
Jackson and his crew were drawn 17th in the starting order before climbing two spots after each run to move within three tenths of a second of the top ten.
The competition starts again at 2pm GMT on Sunday, with the action live on BT Sport ESPN and highlights following on BBC 2 at 3.45pm and S4C at 5pm.