Strong squads for new season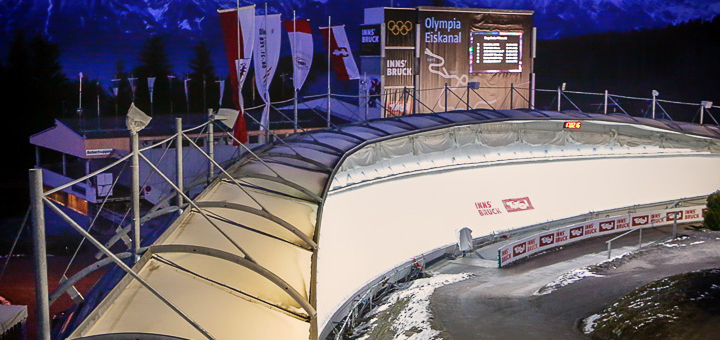 Great Britain's bobsleigh and skeleton teams received big boosts ahead of the 2016/17 season with the news that Olympic Champion Lizzy Yarnold will make her return to the skeleton circuit and Britain's current fastest man, Joel Fearon, will be joined by former British 100m record holder, Montell Douglas, in the GB Bobsleigh ranks.
Yarnold, who tasted Olympic glory in Sochi in 2014 on route to winning all four major skeleton titles in just over 400 days before taking a season away from the international circuit, has been named in the GB Skeleton World Cup squad ahead of December's opening race in Whistler.
The 27-year-old set a track record in winning the national selection race in Lillehammer earlier this month and GB Skeleton Performance Advisor Andi Schmid is looking forward to seeing her pull on British colours again in Canada.
"Having Lizzy back sliding is a huge positive for the team as a whole," said Schmid, who also named Laura Deas, Dom Parsons and Jack Thomas in his World Cup team.
"Her achievements speak for themselves but she is also a fantastic role model and she has a great influence on new and experienced sliders alike.
"I am looking forward to seeing her enjoy further success but I'm also confident that Laura will push on from her maiden World Cup win last season and Dom will be looking to take the next step after finishing fifth in the overall World Cup standings.
"Jack has been in really impressive form in pre-season and he showed on his World Cup debut in March that he has the potential to compete at the very top."
"I'm excited to be back on the World Cup circuit," added Yarnold.
My year off from competition did me the world of good and I'm pleased with how my pre-season has gone so far.
"We've got a strong team and I hope we can get the results we are capable of."
As for GB Bobsleigh, Fearon became the joint-third fastest British man of all time when he ran 9.96 seconds over the 100m in July, just five months after he finished fourth alongside Bruce Tasker in the 2-man competition at the World Championships in Austria.
His decision to remain with GB Bobsleigh while aiming to compete at the World Athletics Championships in London next summer is one that has understandably pleased Performance Director Gary Anderson, especially as it comes on the back of the recruitment of Summer Olympian and Commonwealth Gold medalist, Douglas.
"To be able to recruit another top British athlete in Montell less than a year after Mark Lewis-Francis joined the programme is a huge boost, as is keeping hold of Joel after his stunning summer on the athletics track," said Anderson, who has also added Welsh sprinter Mica Moore, England Rugby Sevens international Sam Blanchet and Belgrave Harrier Greg Cackett to his team this term.
Joel and Montell have their hearts set on an Olympic medal and it says a lot about the quality of our coaching staff and our other athletes that they are convinced they can achieve that aim with us in 2018.
"We are genuinely excited about what lies ahead this season. This is undoubtedly the strongest squad we have had in my time as Performance Director and it's another example of how far we have come in the past six years.
"Last season we achieved our best 2-man result in a World Championships for half a century and we were agonizingly close to a first World Championship medal since 1939 in the 4-man event. We have put strong foundations in place and now our job is to build on those as we head towards what we hope will be a medal-winning Winter Olympics in 2018."
The new World Cup season kicks off in the first week of December in Whistler, Canada, with a further seven races following across North America, Europe and Asia.
British athletes will also compete on the European, North American and Intercontinental Cup circuits, with those competitions kicking off in the first two weeks of November.
For a full race schedule, please click here 
GB Bobsleigh Men's World Cup squad:
Pilots: Lamin Deen, Brad Hall, Bruce Tasker
Brakemen: John Baines, Sam Blanchet, Greg Cackett, Joel Fearon, Tremayne Gilling, Mark Lewis-Francis, Andrew Matthews, Ben Simons, Judah Simpson
GB Bobsleigh Men's European Cup squad:
Pilots: Olly Biddulph, Brad Hall, Bruce Tasker
Brakemen: Jonny Anderson, Axel Brown Nick Gleeson, Paul Judson, Toby Olubi, Justin Oro-Campos, Ashley Watson
GB Bobsleigh Women's World Cup squad:
Pilot: Mica McNeill
Brakewomen: Montell Douglas, Anya Kay, Mica Moore
GB Bobsleigh Women's Accelerated Driver Programme:
Sian Huxtable, Aleasha Kiddle
GB Skeleton Men's World Cup squad:
Dom Parsons, Jack Thomas
GB Skeleton Women's World Cup squad:
Laura Deas, Lizzy Yarnold
GB Skeleton Men's Intercontinental Cup squad: 
Kenny Howard,  Jerry Rice, James Howard
GB Skeleton Women's Intercontinental Cup squad: 
Donna Creighton, Ashleigh Pittaway