So close for GB at Junior World's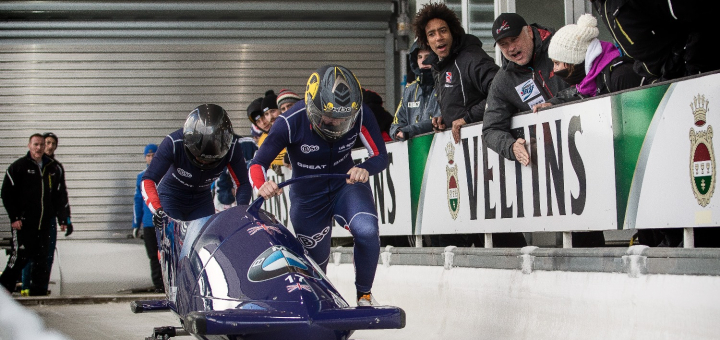 Great Britain came within a whisker of a stunning start to the Junior World Championships on Friday when the Women's Bobsleigh team finished fourth and the men fifth in Winterberg.
Mica McNeil and Aleasha Kiddle missed out on a medal by the tightest of margins as they ended the two-heat women's race just 0.06 seconds off third spot, while Brad Hall and Tremayne Gilling were also within touching distance of bronze less than an hour later.
"To come so, so close in both events shows how far we have come in our Junior programmes," said GB Bobsleigh coach, Lee Johnston.
"Part of me is disappointed we didn't get on the podium, but part of me is pleased that I am disappointed as that shows just how much we have progressed. Overall it was another very good performance from Great Britain."
McNeil and Kiddle were in the bronze medal position after Run 1 but were pipped to the podium by Germany's Sabrina Duljevic and Lisa-Sophie Gericke as the home nation completed a clean sweep in the opening race of the two-day championships.
Stephanie Schneider and Lisa Marie Buckwitz won gold and Kim Kalicki and Ann-Christin Strack took silver, with the latter just 0.12 seconds ahead of the Brits.
The British pair, who are just 22 and 23 years of age respectively, finished in a time of 1 minute 54.24 seconds after impressively consistent runs of 57.57 and 57.67 seconds in a competition for athletes under the age of 26.
The duo were sixth in the same competition last year, while Youth Olympics silver medalist McNeil previously won a Junior World Championship bronze medal alongside Nikki McSweeney three seasons ago.
Mica McNeil and Aleasha Kiddle were agonisingly close to a medal
It was similar story for Hall and Gilling in the men's event as Germany once again made full use of home advantage to claim the top three spots.
European Cup leader Johannes Lochner and Joshua Bluhm won gold, Christoph Hafer and Marc Rademacher took silver and Richard Oelsner and Paul Krenz picked up the bronze medal, with Hall and Gilling just 32 hundredths from a podium place.
Hall and Gilling were the third fastest starters and finished the race in a time of 1 minute 52.25 seconds after runs of 56.01 and 56.24, while the GB2 crew of Olly Biddulph and Ash Watson were 11th in 1 minute 53.57.
"We always knew it was going to be a tough ask to beat the Germans in their own backyard - they are so strong on a track like Winterberg - but we came incredibly close," added GB Bobsleigh Performance Director, Gary Anderson.
"It was like it was for us at the Senior Worlds last year - just 0.06 seconds off the podium for Mica in a very strong field. When you consider that Mica still has four years remaining as a Junior athlete, we are confident she will keep getting better and her time will come.
"Brad has shown increasing maturity this year. He has only been a pilot for 18 months and today he showed remarkable consistency.
"Olly just missed out on a top 10 but had solid drives and he now has to concentrate on the 4-man event where he has trained well all week.
"Every single athlete and every single member of the performance team work so hard and I'm personally gutted that they aren't able to celebrate with a medal this evening. But we have to look forward now: we have the European Championships and the Senior World Championships over the next few weeks where a number of these athletes will be involved and this is a great platform to kick on from."
The Junior World's continue tomorrow with Ashleigh Pittaway going for GB in the Women's Skeleton at 9am before Biddulph, Justin Oro-Campos, Watson and Judah Simpson compete in the 4-man Bobsleigh at 1pm.