Slide the City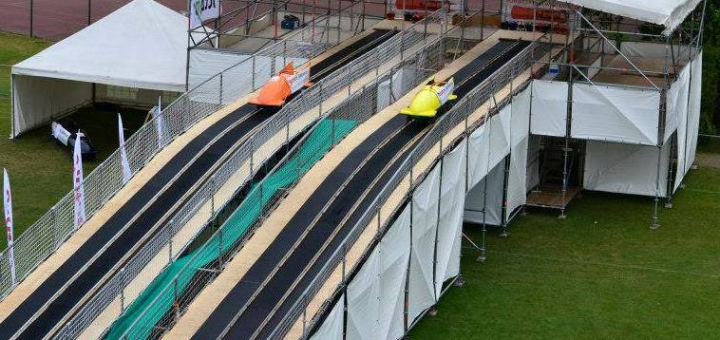 The world of Winter Olympic sport will come to the heart of London this summer courtesy of the inaugural Bobsleigh and Skeleton City Push Track Championships.
And, while there won't be any ice to be seen, those taking part will experience all the thrills - but none of the spills - of the Formula One of the winter world.
The event sees competitors race down a 70 metre track at the Honourable Artillery Club on Friday, June 10 and will feature former sports stars, schools, celebrities and corporations from across the city and beyond.
Teams of six will compete in 2-man and 2-woman bobsleigh and men's and women's skeleton, with the winners taking their bobsleigh experience to the next level with an eye-watering taxi bob ride at the home of sliding in St Moritz, Switzerland.
"I've watched bobsleigh and skeleton at the Olympics but I never thought I'd get the chance to have a go myself, especially not here in London," said James Harding, Investment Director at Quilter Cheviot - one of the companies already signed up to slide this summer.
"It promises to be a fantastic day's entertainment and it's something that is already generating plenty of interest in the office.
"It's a great setting and something that I'm sure we'll remember for a long time, especially if we win!"
GB Bobsleigh and GB Skeleton athletes will take a break from their pre-season preparations to offer coaching tips on the day, with the morning set aside for practice runs for the 30 corporate teams, two schools and the rest of the novice competitors.
More than half the company places have already been snapped up so you are advised to act quickly to avoid missing out on a truly unique opportunity.
The cost per team is £2,000 and interested parties should contact the British Bobsleigh & Skeleton Association via office@thebbsa.co.uk or on 01225 384 343.