Skeleton programmes out on ice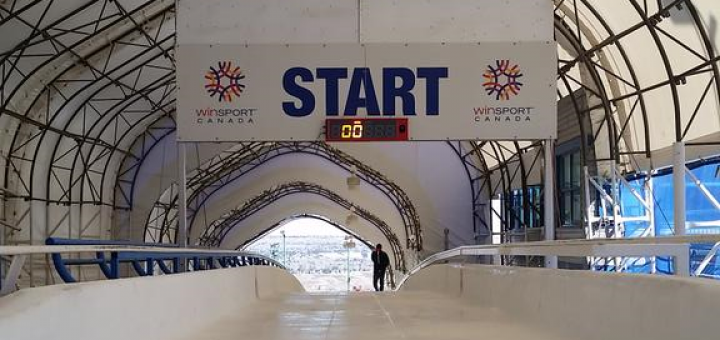 With athletes from the Great Britain Skeleton Performance programme and Talent team all back out on the ice again as the new season gets ever closer, we caught up with Head of Performance Danny Holdcroft to find out who's where, why they're there and what they'll be doing while they're away.
Summer into winter
"It's been a busy summer, a hard summer and a successful summer because we're always looking to improve performance year on year - physically, mentally and from a sliding perspective," said Holdcroft.
"All the athletes have worked hard in the gym and on the push track and we can see that they've made improvements as individuals in the time since we returned from the circuit last season.
"The athletes always look forward to getting back out on the ice as that's what they love doing. Everyone's ready to go now, and that's a good feeling to have."
The Talent team
"This is the group's second year of sliding in a three-year Talent programme: they don't compete on the circuit this season - although they may do one race at the end of the season in North America - so this year is all about learning to slide.
We have a clear athlete development plan for each of our athletes: they all know what they need to work on to improve their sliding skills and we build training camps around ensuring they can do that.
"They've been out in Latvia for a week and now they're in Lillehammer for a further three weeks on the first of those camps this season. They started off by building on the work they've been doing in Bath and now the focus is on continuing to learn how to deliver a sliding performance. This three-week block in Norway is a key part of that plan as we obviously don't have an ice track we can use here in the UK. Lillehammer is a track we know well so we often start the season there.
"The camp features five days of sliding and then a weekend of more preparation. They'll do two or three runs a day and will focus on the performance aspect and the execution of all the background work we've been doing throughout the summer - things that are vital if these guys want to fulfil their potential."
What's next for the Talent squad?
"These athletes are still new to the sport and it's not easy to live out of a suitcase for six months a year so they'll come back from Lillehammer and have a little bit of time off back with their families to give them that balance to their life.
"They haven't been in a performance programme before so it's about more than teaching them to slide - it's about learning to become athletes. Unless they get that lifestyle balance right, they probably won't make it to the very top.
"It'll then be back to training in Bath before heading out on ice again with a seven-day camp in Germany in November, followed by a three-week camp in North America in December.
"Our job is to develop Olympic Champions, and we've proven that is possible. Our experiences tell us that this is the best way to work towards achieving that goal and Beijing 2022 is now their clear focus."
The Performance programme
"The Performance squad are currently in Calgary on a push camp and sliding programme for five days before heading to Whistler on Sunday for 14 days to finalise selections for the new season.
"Like the Talent group, they'll be combining sliding and push starts as they build on all the work they've done in pre-season with the coaches here in Bath. The selection races take place on October 31 and November 1 and I know they are all looking forward to getting back racing again.
This camp is a chance for them to get back into sliding mode and to put into practice the transitional work they've been focusing on in the summer. Ultimately, it's about preparing for the season ahead.
"As a group, the Performance squad can tolerate a little bit more workload than the Talent team because of their experience but they will still be sliding either two or three times a day as we believe that's the optimum output for the athletes. They'll also be fine tuning equipment and ironing out individual issues that they know they need to work on to progress this season.
"Ice coaches Eric Bernotas and Caleb Smith will be working closely with them while they are out in Canada and America and Head Start Coach Ed McDermott and support staff Jen Bryant and Dave Short are also an important part of the camp. Performance Director Andi Schmid is heading over for the selection week and I'll be in close contact with all the coaches from back here at base."
McIntosh, Parsons and Smith
"Dom Parsons and Ed Smith have already been out in Latvia on a push camp prior to Calgary as they return from injuries which should be behind them once interntional competition begins in late November.
"Jor'dan McIntsoh has started the season with the Talent squad to ease back into sliding within a familiar track environment and to build a working rapport with Patrick Shannon, our Talent and Europa Cup coach.She's worked really hard to get herself back into the best possible shape after missing all of last season because of brain surgery and you can see how excited she is to be on the ice again.
"Jor'dan will head back to Bath after her time in Norway and will then join up with the rest of the European Cup squad for the start of the season."