Saturday's skeleton & bobsleigh round up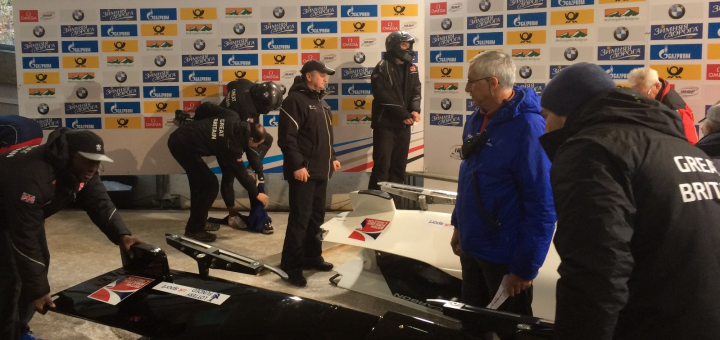 Saturday saw seven Brits in action in the final 2-man bobsleigh and men's skeleton action of the calendar year.
In the men's skeleton race, all three British sliders made it into the top 20 for the first time this term but no one could catch the irrepressible Martins Dukurs as the Latvian claimed his 40th World Cup win in Konigssee.
Dom Parsons finished 14th, David Swift 17th and Ed Smith 19th as triple World Champion Dukurs made it three victories from three so far this season.
Swift recorded the fifth fastest start time in Run 1 to reach the second heat after missing out on that privilege in Altenberg and Winterberg. He then went one better in Run 2 as he registered the fourth quickest start, with only Dukurs and fellow medalists Alexander Tretiakov and Sungbin Yun faster at the top of the track.
All three Brits were consistent in their times over the two legs, with Parsons 14th on both occasions, Swift 16th and Smith 18th on both runs.
The results mean Parsons finishes the calendar year ninth in the IBSF World Rankings and Smith and Swift occupy the 18th and 19th spots respectively ahead of January's races in North America.
Brad Hall and Ben Simons marked their return to the bobsleigh World Cup circuit with a 20th-place finish after a fortnight of European Cup action in Winterberg and then Altenberg, while Bruce Tasker and Joel Fearon tied for 22nd.
Hall, Simons and Tasker had all been driving in the EC competition as part of their Advanced Driving Programme and there were plenty of positives as they stepped up to the top circuit.
Neither Hall or Tasker had driven in competition at the track prior to today and the number of practice runs they had under their belts only just reached into double figures.
Hall and Simons recorded times of 50.31 and 50.60 for a combined time of 1 minute 40.91 seconds, beating 10 other sleds in the process, while Tasker and Fearon just missed out on Run 2 after they finished joint 22nd in a time of 50.41.
Tasker and Fearon's start time was hugely impressive as they were timed the joint third quickest out of the blocks. Their push time of 4.85 was only bettered in Run 1 by race winner and World Cup leader Francesco Friedrich and a Latvian crew led by Oskars Kibermanis.
The action in Konigssee concludes tomorrow when the 4-man bobsleigh takes centre stage. All four of today's 2-man athletes will be back in action from 10.45am GMT.
Hall, Simons and Tasker will act as brakemen for John Jackson, while Fearon will be on the side handle as he, John Baines and Anthony Matthews push Lamin Deen for the third week running.
You can follow all the World Cup action live on the IBSF website atwww.ibsf.org/en and we will, of course, keep you updated here and on social media.
Skeleton results

WORLD CUP (Konigssee, Germany). Men: 1 M Dukurs (LAT) 1m 40.28s (50.25s & 50.03); 2 A Tretiakov (RUS) 1-40.71 (50.23 & 50.48); 3 S Yun (S KOR) 1-41.16 (50.63 & 50.53); 14 D Parsons (GB) 1-42.86 (51.39 & 51.47); 17 D Swift (GB) 1-43.23 (51.58 & 51.65); 19 E Smith (GB) 1-43.52 (51.78 & 51.74)

Standings: 1 M Dukurs 675pts; 2 Tretiakov 630; 3 Jungk 578; 9 Parsons 432; 18 Smith 236; 19 Swift 212
Bobsleigh results

WORLD CUP (Konigssee, Germany). 2-man: 1 F Freidrich & T Margis (GER) 1m 38.77s (49.29s & 49.48); 2 O Melbardis & D Dreiskens (LAT) 1-39.05 (49.48 & 49.57); 3 N Walther & M Huebenbecker (GER) 1-39.50 (49.57 & 49.93); 20 B Hall & B Simons (GB) 1-40.91 (50.31 & 50.60); 22 B Tasker & J Fearon (GB) 1 run 50.41