'Real boost' for Schmid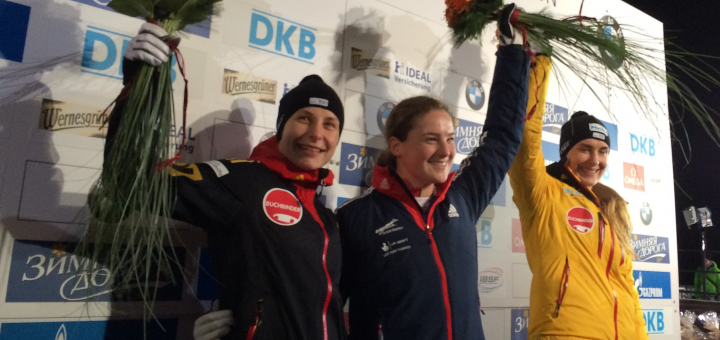 Laura Deas' maiden World Cup win was a huge boost to the entire Great Britain Skeleton team says Performance Director Andi Schmid.
Deas downed a packed international field to claim gold in the circuit opener in Altenberg last Friday, giving GB a super start to the new skeleton season.
The 27-year-old twice finished on the podium last term and was ranked fifth in the world overall but stepping up another level so quickly after the summer has added to the feel good factor within the GB camp.
"It was an absolutely fantastic result for Laura," said Schmid. "She deserved the win and it was an exciting result for us all.
You always come into a season with some uncertainties and the first race gives you some idea of you are and where the rest of the world are.
"Psychologically, this result is a real boost. We've done very well historically with the women's squad but it's not fair to always just mention people who have done well in the past - the athletes know they are the ones who need to deliver and Laura is the latest person to do that.
"We know we are strong enough to deliver results and this win gives confidence to the whole team and the whole group. It's shown us that 'Yes, we can succeed'."
The fact that Deas' achievement came on a notoriously difficult track to drive was another positive to take to Winterberg this week, as was the performance of fellow female slider Donna Creighton, who was on the cusp of a top ten finish on her return to the world's premier circuit.
"Altenberg is a very tough track but the way Laura managed everything was fantastic. She had very good control in the top area of the track and she nailed it in the second heat," added Schmid.
"Your first World Cup victory is something special - it's something you will always remember - and the fact that Laura's came on one of the most difficult tracks in the world, and one where she had previously had some difficulties, is a great achievement.
"She answered some questions and now knows that she can win gold, even on the most difficult tracks - a track where the benefits of a fast push time can be quickly destroyed if you don't get it right later on.
"Donna could have finished higher than she did and the good thing is that she knows she is definitely capable of being in the top ten or even the top six. She was in good positions when you look at split times and it was a very positive result and definitely something to build on. We want both girls to deliver results, and they both did."
Next up for Deas and Creighton is Race 2 of the World Cup season in Winterberg this Friday at 11am GMT.