Pittaway wins Olympic gold for GB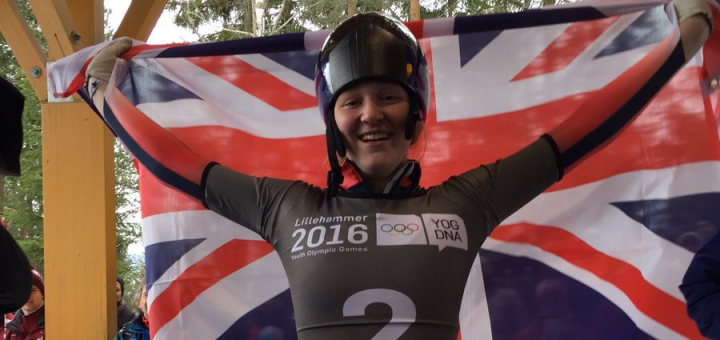 Great Britain Skeleton is celebrating another Olympic gold medal after Ashleigh Pittaway won the Youth Olympic Games in Lillehammer this morning.
The 15-year-old continued her stellar season with two superb runs to triumph by almost a full second from Germany's Hannah Neise, with France's Agathe Bessard in third, a further 1.2 seconds back.
Pittaway, who won all four of her Youth Olympics qualifying races prior to the main event, produced the quickest times in both heats as she saw off a 20-strong field on the sixth day of competition in Norway.
"When I first crossed the line I couldn't believe it: I felt like I was standing next to me watching me finish. It was so surreal and just like a movie," said Pittaway.
It feels amazing to win gold. I'm so happy and so proud to represent my country.
"Conditions here have been good. I was very nervous at the top of my first run but felt strong coming down the second and, once I exited turn seven, I knew the run was good.
"Hannah (Neise) is one of my best friends and we're really happy to be on the podium together. That's been our dream together for four years."
Ashleigh continues a long line of Olympic success for GB's female skeleton athletes, with her hero Lizzy Yarnold having won the senior title in Sochi two years ago, after Amy Williams took gold in Vancouver in 2010.
Shelley Rudman, who is working as an ambassador at the Lillehammer Games, claimed silver for GB in Turin in 2006 and Alex Coomber won bronze when the sport first returned to the Olympic fold in Salt Lake City in 2002.
Youth Olympic Games (Lillehammer, Norway). Women: 1 A Pittaway (GB) 1m 50.23 seconds (55.08 & 55.23); 2 H Neise (GER) 1-51.19 (55.43 & 55.76); 3 A Bessard (FRA) 1-52.45 (56.24 & 56.21)
Ashleigh Pittaway led by example in Lillehammer (c) Shelley Rudman