Pilots eyeing more success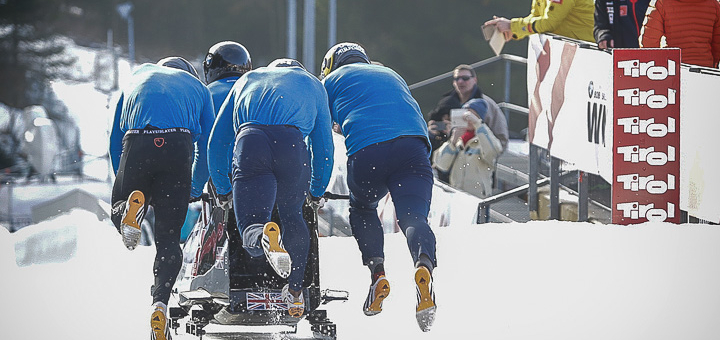 Great Britain pilots Lamin Deen and John Jackson are looking to build on the feel-good factor of last weekend's terrific 2-man showing when they lead their 4-man crews on to the ice in Igls on Saturday afternoon.
Deen will guide GB1 alongside Ben Simons, Bruce Tasker and Joel Fearon, a week after the latter two athletes recorded the country's best 2-man result for 50 years when they finished fourth, just two tenths of a second outside the medals.
Jackson leads a GB2 crew featuring Brad Hall, John Baines and Andy Matthews as he looks to mark his comeback season following a long-standing Achilles injury with a similarly successful story to the one he wrote at the last Winter Olympics in Sochi, when GB finished fifth.
And, with plenty of progress having been made during training in the week, both drivers are keen to deliver now race day is upon them.
"Success breeds success. You can feel that and we know we've got a chance to do well here," said Deen, who knows the importance of starting strongly in Austria.
"I've said to Gary (Anderson), our Performance Director, that I want to improve on last year's result. We've been fifth at the last three global championships as a team and I want to break that mould.
"I can remember being a brakeman pushing at this very track and not even pushing in a race close to what we're pushing in training now. The team has come a long way and we've now got real strength in depth. There are guys back in the UK who didn't make the World Championship squad who could also do a very good job.
"Consistency is very important, and that's consistent pushes as well as consistent driving. There is not a lot of time to be found in this track - you can only lose it. Hopefully, we can gain a head start from the push."
Both British sleds have impressed during training this week (c) Mike Varey
Those sentiments are echoed by 38-year-old Jackson, who knows that a lightning quick start will give him the chance to prove he can beat the best in the world.
"We know we can beat teams down the track if they are starting close to us," added Jackson. "I wouldn't have come back unless I thought I could win medals.
"It all depends now on how much all the other nations are holding back at the start because you can tell that everybody is playing the game and holding their cards close to their chest.
"I'm happy with the way things have gone in training, though. Consistency will be key and on the last day of training I put two very consistent runs in, which has built my confidence.
"I feel like I've got to grips with the track, but in every run there is always something we need to tidy up. Hopefully, we can do that over the four race runs."
You can watch the 4-man crews in action live on BT Sport Europe on Saturday, with delayed coverage also available via the BBC Red Button at 3pm.