Lewis-Francis joins British Bobsleigh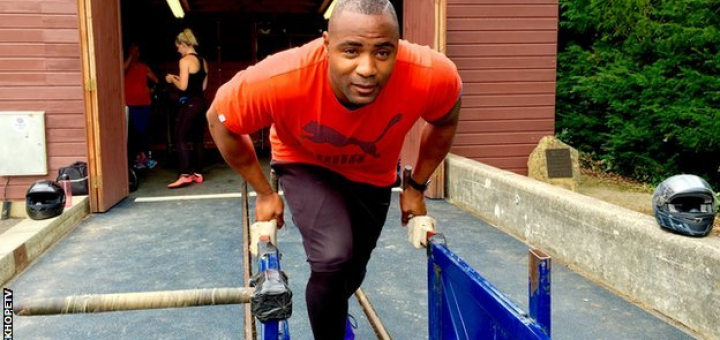 British Bobsleigh have pulled off a major coup after Olympic Champion Mark Lewis-Francis joined the squad ahead of the new season.
Lewis-Francis won gold in the 4x100m relay in the summer Olympics in Athens in 2004 and will now hope to mirror that feat in the winter version of sport's greatest showpiece in PyeongChang in 2018.
Great Britain finished just outside the medals at the 2014 Winter Olympics in Sochi and the addition of an athlete who has also tasted glory in the European Championships and Commonwealth Games is a huge boost to their hopes of reaching the podium in PyeongChang.
"I'm all about challenges: I've already won a gold medal in the Summer Olympics and if I can win a medal at the Winter Olympics, I'll be a happy man," said Lewis-Francis, who has been selected for the GB squad for the Swiss Push Championships later this month.
"We've got a strong team already: they've come fifth at the last two World Championships and the Olympics so if I can slot in there somewhere and help them gain two or three places, it's job done.
The success the team have had really excites me. I'm definitely not coming just for the ride.
"I don't just want to help them win medals - I want to be a big part of it. I want to put as much work in as the rest of the guys and achieve what they want they want to achieve.
"I'm loving the fact that British Bobsleigh and the British Bobsleigh & Skeleton Association have given me this opportunity and I'm going to grab it with both hands."
Lewis-Francis had long been aware of bobsleigh as a sport and he admits he didn't need a second invitation to come and see if he has what it takes to excel on the global stage.
And, while he still harbours hopes of competing in the summer Olympics in Rio next year, he insists bobsleigh is now his primary focus.
"My mind is on bobsleigh. I'm not doing bobsleigh so I can continue with athletics - I'm doing bobsleigh so I can say goodbye to athletics. I want to show the athletics world that I'm still a quick athlete but that this is a new chapter in my life now," added the 33-year-old.
"Michael Khmel, who is now coaching at British Bobsleigh, used to be my 4x100m relay coach with Great Britain. I hadn't seen him for a while but I had a text from him out of the blue asking if I was interested in trying in bobsleigh. I'd watched the last Olympics and I was intrigued. And I bit his hand off, to be fair.
"It's definitely not as easy as it looks, and that excites me. The bob is very heavy and it's very technical - it's not just about pushing something down a hill and I've found that out already.
I'm just taking it step by step but I know I've got the power and the speed to get the sled down the track quickly - it's now a case of learning how to do it.
"It still entails speed, it's still explosive and it's still what I do. And the attitude I've seen in the camp is amazing, so if I can bring an extra spark, it could be a great team."
Attracting an athlete of the calibre of Lewis-Francis is yet another example of just how far British Bobsleigh have come in recent seasons. From being rank outsiders to regular medal contenders is a major step forward and Performance Director Gary Anderson is understandably delighted to have acquired another piece of the jigsaw in the hunt for Olympic glory in South Korea.
"For an Olympic gold medalist to want to come and be a part of the programme shows that we're on the right track," said Anderson.
We've made the sport attractive to guys like Mark: they know there is a chance of a medal, and that's what they want.
"Mark is a guy who likes to engage, and that's something that we like about him. He's extremely confident and has lots of ability. He's won the highest accolade you can in sport and he was part of a team when he won that medal. That's also very important to us because he clearly knows how to interact with the group.
"We know how fast Mark can run and we know his pedigree - that's a given. We've been inducting him into the sport down at our push track facility in Bath, and that's quite a fast process. He's met the athletes and trained with them and he's working with the coaches to look at transferring his speed into pushing, because that's what we do - we push a sled. 
"I'm fairly certain that Mark will push a sled quickly: he has everything that our research suggests he needs to do that and I'm excited about seeing him out on the ice this winter."