Khmel expecting best yet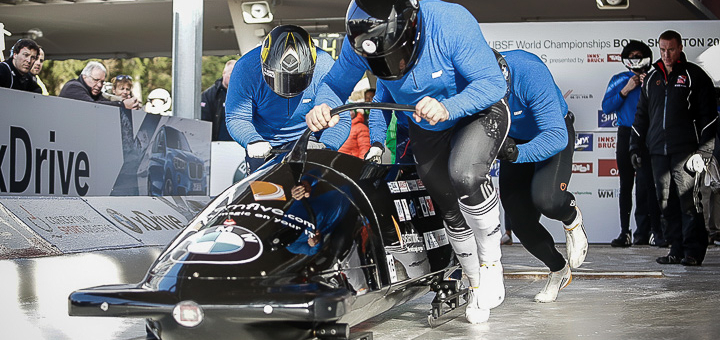 GB Bobsleigh step up their search for potential Pyeongchang 2018 stars this Saturday and Performance Coach Michael Khmel is convinced they will have the biggest and best selection they've ever had to pick from.
A team lead by Chris Woolley, Performance Coach, and Lauren Forrow, Performance Programme Manager, head to Lee Valley for the second national trial of the summer, with a large pool of talent having been whittled down to 20-something, all of whom will be aiming to leave an impression in London.
"It's the best group we've ever had apply," said Khmel, who has previously coached for UK Athletics and Australia Athletics. "There are some big names and some serious talent in both the male and female categories.
"We've got sprinters, multi-eventers, cyclists, long jumpers and the like and it's very exciting to see the kind of athletes who want to be associated with the programme.
"We've got over 20 people who will be testing, and we've been very selective in who we have put forward. It's an understatement to say we're very happy with both the quantity and the quality of the people trying out. Our scouting network is certainly paying dividends."
GB Bobsleigh now have some of the fastest push athletes in the sport
The interest in the sport has undoubtedly grown in recent years, with four successive top-five finishes at global championships; a Junior World Championship gold; and Youth Olympic silver and bronze since 2010 showing that the Brits are genuine medal contenders at the very highest level.
And that success, together with the eye-catching efforts of brakeman Joel Fearon in becoming the third-fastest Brit of all-time over 100m last weekend, means the desire to join GB Bobsleigh on the path to Pyeongchang appears greater than ever.
"I've had a lot of high-profile current and ex-athletes and coaches come up to me recently to talk about bobsleigh," added Khmel.
"In the past, conversations about bobsleigh with a lot of people were a bit light-hearted but our achievements recently - and Joel Fearon's amazing run last week when he clocked 9.96 seconds over 100m - has shown people we should be taken very seriously.
"Our performances and successes mean that we don't have to try and convince people that we are a genuine world-class team. People now know that we are a serious Olympic sport - we were fifth at the 2014 Olympics and fourth at the 2016 World Championships and we are genuine medal contenders. People now know this - we don't have to keep telling them.
"We've definitely come a long, long way. I joined five years ago, so a year after Gary (Anderson) took over as Performance Director. That first year was pretty disappointing because we didn't push well, we didn't drive well and we were definitely at a development stage. But we're in a different place now.
"We now have some of the fastest push athletes in the world and our drivers have had some real successes. We're excited about the short-term and long-term future and we're excited to see what comes of Saturday."
To make a last-minute application for Saturday's trial, please click here to see the athletic capabilities we're looking for.