Juniors take on the world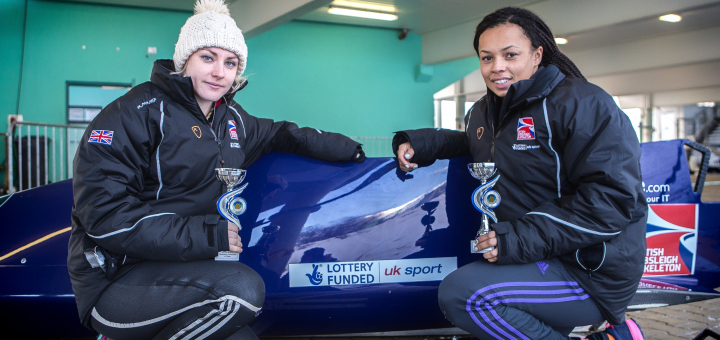 Young British talent will be gunning for glory at the Junior World Championships in Winterberg this weekend.
Bobsleigh and skeleton athletes from the BBSA will be competing against the globe's best sliders aged 26 and under across two days of competition in Germany.
Mica McNeil will be looking to repeat her medal success from three seasons ago when she leads off Aleasha Kiddle in the women's bobsleigh from 2pm on Friday.
McNeil won bronze alongside Nikki McSweeney in December 2012 and has since recorded seventh and sixth-place finishes, the latter alongside Kiddle in Altenberg 11 months ago.
Brad Hall and Olly Biddulph will both pilot 2-man crews, with Tremayne Gilling joining Hall and Ashley Watson the brakeman for Biddulph.
This will be Gilling's first appearance at the Junior World's but Biddulph, Hall and Watson have all competed before, with Biddulph having featured at the last four global gatherings.
In skeleton, Ashleigh Pittaway goes for Great Britain on the back of a fine start to her international career. The 15-year-old has been in stunning form so far this season, winning all four of her Youth Olympics qualifying races and securing an historic bronze medal in just her third race on the senior circuit last weekend.
Pittaway races on Saturday morning at 9am, before the men's 4-man bobsleigh brings proceedings to a close at 1pm. Biddulph pilots the GB crew in the 4-man, where he is joined by Justin Oro-Campos, Watson and Judah Simpson.
"The Junior World Championships are very important as we track these athletes in their performance trajectories," said GB Bobsleigh Performance Director, Gary Anderson.
"We sometimes forget that Mica and Olly are still very young because they started their careers so early.
"Mica has already medalled at this level and that set her up for the World Cup races she has competed in. We are now looking for her to use this as the platform to launch her 2018 Olympic Games aspirations".
We have a very young squad who are looking to make their mark. If they take the level of training they have achieved into the race I will be very happy indeed - GB Bobsleigh coach, Lee Johnston
"Ashleigh has shown in her races this season that she has the talent to go a long way in our sport," added GB Skeleton Head of Performance, Danny Holdcroft. "She has done exceptionally well so far and we are obviously very pleased with her progress.
"It is important to remember that this is her first season of competition, though, and she is still only 15 years of age. She doesn't carry a weight of expectation from anyone within the programme - we just want her to keep learning, keep enjoying the sport and to keep on improving.
"This weekend is another step in her early development as a slider - it's a great chance for her to experience a global competition - and I am sure she will be a better athlete for it, whatever the result."