Jackson returns in style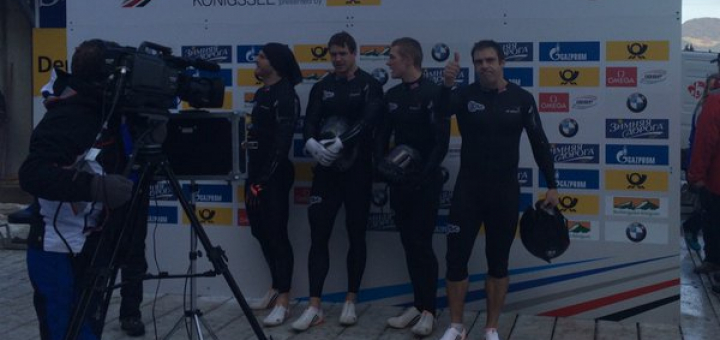 John Jackson returned to World Cup action for the first time since early 2014 in some style on Sunday as he guided Great Britain to eighth spot in the 4-man bobsleigh.
Jackson last competed at the top level at the Winter Olympics in Sochi 22 months ago before missing all of the 2014/15 season with a long-standing Achilles injury.
He won silver on European Cup duty in Winterberg last week and wasted little time in reminding the world that he belongs with the very best as he and his crew of Brad Hall, Bruce Tasker and Ben Simons beat 16 other sleds in the final World Cup event of the calendar year in Konigssee.
Jackson and co were less than half a second off the medals in an event won by German driver Nico Walther as they recorded the seventh and ninth fastest start times on one of the shorter tracks on the circuit.
"I'm delighted for John Jackson: it's been a long road back and to finish in the top 10 on his first World Cup race since Sochi is a huge plus," said Great Britain Bobsleigh's Performance Director, Gary Anderson.
"John and his crew - all of whom are also pilots on our Accelerated Driver Programme - produced two strong runs and they've set a platform for us to kick on in the New Year.
"Our start times for both our crews show we are one of the best in the world in that department and that is very important as we build towards the World Championships in Igls in February."
Lamin Deen, who had finished sixth and eighth in the two previous World Cup races this term, led Great Britain's other crew to 16th place.
Deen and his team of John Baines, Joel Fearon and Andrew Matthews were hugely impressive at the top of the track as they produced start times of 4.81 and 4.83 seconds, with only one crew quicker out of the blocks in Run 1 and two faster in Run 2.
The result sees Deen end 2015 in eighth place in the IBSF World Rankings ahead of next month's races in North America.
WORLD CUP (Konigssee, Germany) 4-man: 1. N Walther (GER) 1m 37.57 (48.83 & 48.74); 2 M Arndt (GER) 1-37.75 (48.89 & 48.86); 3 R Peter (SUI) 1-37.95 (48.95 & 49.00); 8 J Jackson (GB) 1-38.44 (49.20 & 49.24); 16 L Deen (GBR) 1-39.04 (49.43 & 49.61)
Standings: 1 Freidrich 642pts; 2 Walther 635; 3 Arndt 620; 8 Deen 432; 19 Jackson 160