Golden girl makes dream debut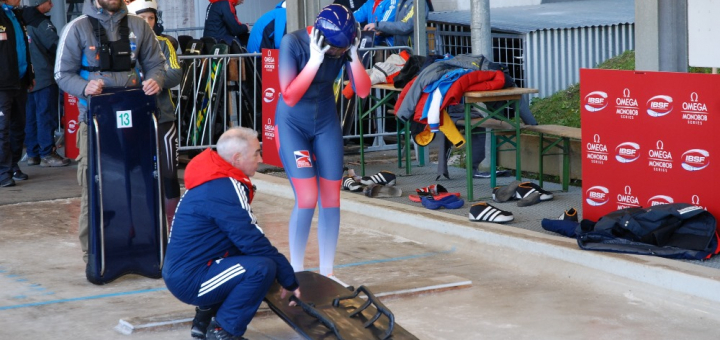 Ashleigh Pittaway's golden Great Britain debut has brought plenty of praise from Performance Director Andi Schmid.
Pittaway won double gold in her opening skeleton Youth Olympics qualifier in Igls as she enjoyed a perfect start to life as a GB slider.
The 15-year-old, who has a German mother and English father, is fully three years younger than many of her competitors but showed great maturity in taking the first steps towards reaching February's showpiece event in Lillehammer.
"It was an absolutely fantastic performance," said Schmid, who was in Austria for the youngster's second victory on Saturday.
"From what I saw of Ashleigh on preparation camps and when I saw her sliding last year, her sliding performance and ability is spot on.
Ashleigh is such a talented slider: the feeling she has for the track is superb. 
"That's something you either have or don't have. And she has that, absolutely."
But it wasn't just her raw sliding ability that impressed Schmid when she saw off 24 other athletes at the weekend.
The former World, European and World Cup champion was delighted with the improved push times and impressive mental characteristics shown by his latest British Olympic hopeful - something he believes will stand her in good stead ahead of next week's racing in Norway.
"What needed focusing on over the summer was improving Ashleigh's push time," added Schmid.
"Her coaches have done a great job and so have her family and the programme here. Woody (Head of Talent Pathway, Mark Wood) has done a fantastic job in bringing Ashleigh to that result.
"Her push time is already two-three tenths of a second better than it was and that's a core part of the race. Sliding performance is one thing, but without a good push time, you have no chance.
"She pushed PBs in Igls - which was great to see - and that's the basis for her sliding performance. She's now competing against German girls she hadn't always beaten in the past and she's winning.
"And the way she fought back having not been leading after Heat 1 of the first race is a great attribute - to have that winning attitude is crucial and to have it at such a young age is something I really like."
Pittaway will be back in action on Wednesday 16 and Thursday 17 December as the next two rounds of Youth Olympics qualifying get underway at the same venue where the event itself will be held in two months' time.