Gold again for Yarnold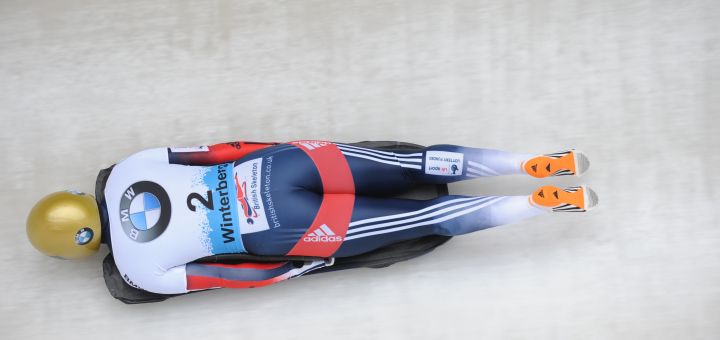 Lizzy Yarnold made history with a gold medal at the FIBT World Championships in Winterberg, Germany today to become the reigning World, Olympic & European Champion, winning all three titles within 400 days of each other.
Yarnold set a track record in her opening run yesterday and improved her own mark in the fourth and final run today in 57.42 to secure victory with an overall time of 3:49.95 and continue Britain's success in this event last won by Shelley Rudman.
There were also fantastic performances today from Laura Deas & Rose McGrandle, who both secured top-10 finishes at their first World Championships.
As with her gold at the Winter Olympics in Sochi last year, Yarnold dominated the race as she led the women's skeleton field from start to finish. The 25-year old increased her advantage with every one of her four runs in Germany, going from a slender advantage of 0.01 in the first run, to 0.07 after the second, then to 0.49, before taking gold by the considerable margin of 0.67 seconds.
Yarnold, from Maidstone, Kent, had never previously won the World Championships, with her best result coming in 2012 when she won a bronze medal at Lake Placid, and she had set winning this event as her main goal for the season, which she achieved in magnificent style.
Canada's Elisabeth Vathje and Jacqueline Lölling, on her home track in Winterberg, took bronze and silver respectively, performing superbly at their first World Championships races, both at just 20 years of age.
Standing on the podium after the race, a thrilled Yarnold said: "I can't quite take it all in - it has been absolutely amazing! I wanted this world title so much! I was really nervous before the race because so many of the other athletes were so fast in training. Now I'm just totally exhausted and completely over the moon.
"It has been a lot of hard work and it's been a struggle at times and I couldn't have done it without my team and all my support - I'm not here by myself. I am so pleased I can say I'm World Champion as well as Olympic Champion & European Champion - it's all I've ever wanted".
Laura Deas produced her best performances of the competition today to move up to seventh place in the World in what has been an excellent debut season competing at the highest level for the 25-year old from Wrexham.
Deas produced her fastest start & run times in her fourth heat (5.24 & 57.66) to secure herself seventh place, to go with her overall fifth place finish in the 2014/15 World Cup tour.
Following the race, Deas said: "I'm really pleased with my finish at the World Championships, it's a great way to cap a really positive first season on World Cup. My first run left me back in 12th but I battled back and improved on every run so I couldn't be happier".
Rose McGrandle was impressive as well today as she also produced her fastest start (5.38) & run times (57.83) of the competition to put her in ninth place overall as all three of British Skeleton's female athletes secured top-10 finishes to round-off a tremendous season for the women's squad.
McGrandle said: "I have totally enjoyed spending the season with such a supportive team of staff and coaches who have been instrumental in my performance an achievements, so a big thank you to them! A big shout out as well to all who have been watching, following, cheering and supporting! Thank you!".
Yesterday Dominic Parsons added to Britain's quartet of top-ten finishes with seventh place in the men's event.
British Skeleton's Performance Adviser, Andi Schmid, commented on the achievements of the team, saying: "To have all three girls finish in the top-10 at the World Championships is fantastic. Lizzy had to be consistent, especially with a strong challenge coming from the Canadian [Elisabeth Vathje], but her routine, experience and strength helped her control the race - she gave everything and to be World, Olympic & European Champion is a great achievement.
"Laura got better and better with each run and she is always improving which is really promising for the future. For her to finish seventh the first time competing at the World Championships is very impressive. Top-10 for Rose is another great result and everything was so tight in the top-10 she could have been even higher up.
"In the men's field, we know we need to improve but Dom's performance, to finish seventh, was a good result. He is there or thereabouts in terms of where he needs to be in this post-Olympic season.
"Our new staff this season have all worked well together and I've been very impressed with how they have created a high performance atmosphere. We have had a great platform set by the way the athletes, coaches and support staff have worked together this year".