GB pair on award shortlist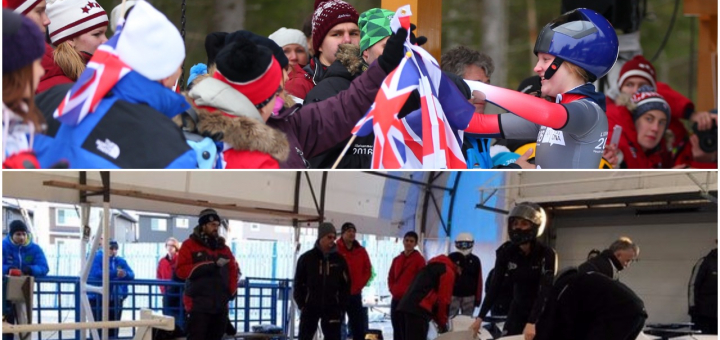 Bobsledder Kelsea Purchall and skeleton slider Ashleigh Pittaway have both been nominated for this year's SportsAid One to Watch Award.
The pair join eight other British athletes in the running for the prestigious award, with a final shortlist of three set to be announced in a fortnight's time.
Previous winners include senior Olympic medalist Tom Daley but no bobsleigh or skeleton athletes have taken the top honour to date and this year's award carries extra significance given that it will be presented at the charity's 40th anniversary SportsBall in London on November 24.
Pittaway won skeleton Youth Olympic Gold in Lillehammer in February, while Purchall took bronze in the mono-bob in Norway on the same weekend.
Both girls had finished the regular season as World No 1 after a stunning series of races that saw Pittaway win all six of the competitions she entered and Purchall take three golds, a silver and two bronze medals across her seven starts.
"I was blown away when I found out I was on the shortlist. I could not believe it as there are so many other worthy athletes in the country so to be in the top ten is really special," said Pittaway, who won European Cup bronze in Konigssee on her senior GB Skeleton debut last season.
"SportsAid have been fantastic this year. I remember when I was at the Youth Olympics and I won my gold medal, they were there at the finish line congratulating me and interviewing me. Winning that was an amazing feeling. But they're not just with you for the medal moments; they are supporting you the whole time throughout the year."
Ashleigh Pittaway won every junior race she entered last season
"The Youth Olympics were back in February so to still see my achievements recognised by being nominated for this award is great," added Purchall.
This is my second year of being with SportsAid. The monetary side of things is obviously a big plus but just knowing that people believe in you gives you that extra motivation to push on and be the best athlete you can be.
"During the Youth Olympics, SportsAid were so supportive, tweeting my results and reporting on how I was getting on. But the thing is, they have been involved right the way through the season and that's been really nice."
Kelsea Purchall finished the season as World No1 and an Olympic medalist
Pittaway and Purchall, who are 16 and 18 respectively, have been selected from 1,100 rising British stars supported by SportsAid across more than 60 different sports during 2016. Each year, athletes are nominated by their sport's governing body on the strength of their talent and potential, with the One-to-Watch Award gaining a strong reputation for identifying the best up-and-coming prospects in British sport.
This year's shortlist is as follows:
Alex Yee, 18 (triathlon)
Ashleigh Pittaway, 16 (skeleton)
Bradly Sinden, 18 (taekwondo)
Dan Whiteley, 18 (sailing)
Gregg Warburton (wheelchair basketball)
Harry Huang, 15 (badminton)
Kelsea Purchell, 18 (bobsleigh)
Madi Rowlands, 16 (skiing)
Niamh Emerson, 17 (athletics)
Tom Derbyshire, 18 (swimming)
Previous winners:
2006 - Tom Daley (diving)
2007 - Andrew Brown (sailing)
2008 - Hollie Arnold (para athletics)
2009 - Jodie Williams (athletics)
2010 - Harry Martin (hockey)
2011 - Sally Brown (para athletics)
2012 - Courtney Tulloch (gymnastics)
2013 - Amber Hill (shooting)
2014 - Morgan Lake (athletics)
2015 - Emma Wilson (sailing)
For full details on all the nominees, please click here
To learn more about SportsAid, please click here