GB pair end Day 1 in 11th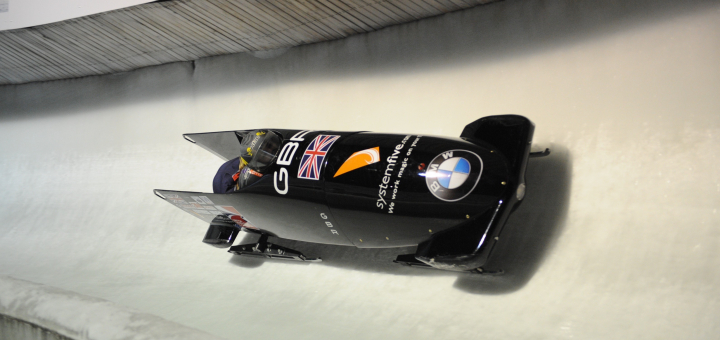 The first day of the IBSF BMW World Championships ended with Great Britain duo Mica McNeill and Natalie DeRatt just 0.01 seconds off the top ten.
McNeill and DeRatt clocked respective run times of 53.62 and 53.74, with consistent starts of 5.66 and 5.64 in the women's bobsleigh in Igls, Austria.
Germany's Anja Schneiderheinze - who won World Championship silver in Winterberg last season - leads the way from Canada's Kaillie Humphries and America's reigning champion Elana Meyers Taylor at the halfway stage, with the two remaining runs starting at 2pm GMT tomorrow.
"We're right in the mix for our target position," said DeRatt, immediately after the end of the opening day's action. "And the great thing about working with Mica is that we are very consistent, so we'll hope to get a little faster in the third and fourth runs.
We're definitely still hungry for it. We'll stay positive and give it our all tomorrow.
"There was only around two tenths of a second between sixth and 13th after the first run, so anything can happen."
The middle placings of the 18-team field are tightly bunched, with the eighth-placed sled three tenths of a second ahead of the British pair and the team in 14th the same distance behind.
Mica McNeill and Natalie DeRatt kicked off GB'S World Championship Challenge (c) Charlie Booker 
McNeill and DeRatt, who were seventh in last week's European Championships in St Moritz, will now work hard to ensure everything is in place to perform tomorrow, starting with sled maintenance back at the hotel this evening.
"We'll have to inspect the runners and make sure they're scratch free," added 27-year-old DeRatt, who says she'll sleep well but will have bobsleigh on the brain when her head hits the pillow.
"It's then all about recovery - eating right, drinking right and getting some good sleep. I sleep pretty well, but I'll be doing 'the hit' when I drift off!"
Tomorrow's racing features the first two runs of the 2-man bobsleigh as well as the conclusion of the women's event.
Bruce Tasker and Joel Fearon and Brad Hall and Ben Simons will represent GB in the 2-man, with Run 1 beginning at 8.30am GMT.
Remember, you can watch tomorrow's action live via ibsf.org and we'll of course keep you updated on Facebook and via Twitter at @the_bbsa.