GB Bobsleigh Talent Transfer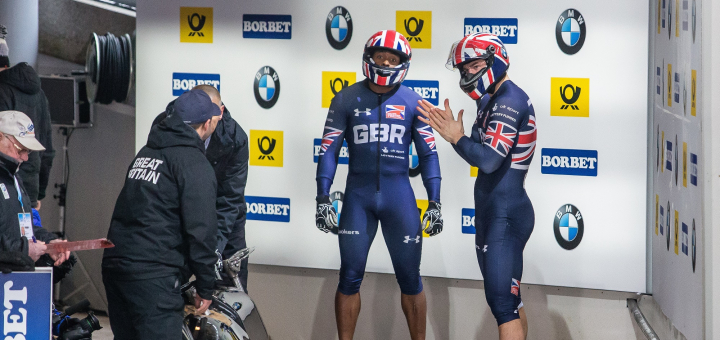 GB Bobsleigh athletes continue to demonstrate some of the strongest athletic ability in the world, and we want to know if you have the potential to match them.
We use a battery of tests that identify athletes' performance profiles specific to bobsleigh and, if you meet the criteria below, we want to hear from you.
We're holding trails at Lee Valley Athletics Centre on Saturday, July 22 and, you never know, it could be your first step to Winter Olympic glory.
WHAT WE'RE LOOKING FOR...
SPRINT SPEED
PUSH SPECIFIC SPEED
REACTIVE STRENGTH/PLYOMETRIC ABILITY
To take the next step to a new challenge, tell us if you can achieve at least one of the minimum performance standards below:
Sport
Men's Desired Standard
Men's Min standard
Women's Desired Standard
Women's Min Standard

Sprinting

(100m)

 10.2-10.5 secs
 

11.00 secs

 

11.3-11.5 secs

 

12.0 secs

Sprinting

(30m)*

 

≤ 3.60 secs

  ≤ 3.80 secs
  ≤ 4.00 secs
  ≤ 4.15 secs
Long jump
 

≥ 7.0m

 

≥ 6.5m

 

≥ 6.3m

 

≥ 6.0m

 
 
 
 
 

Rugby

(10m sprint)

 

1.55 secs

 

1.65 secs

 

1.90 secs

 2

.00 secs

Rugby

(40m sprint)

 

4.70 secs

 

4.85 secs

 

5.25 secs

 

5.40 secs

 
 
 
 
 
Squat (full)
 

≥ 200kg

 

≥ 170kg

 

≥ 140kg

 

≥ 120kg

Power clean
 

≥ 140kg

 

≥ 120kg

 

≥ 100kg

 

≥ 80kg

 
 
 
 
 
Vertical counter movement jump
 

≥ 65cm

 

≥ 60cm

 

≥ 55cm

 

≥ 50cm

Broad jump 

(into sand)

 

≥ 3.20m

 

≥ 3.00m

 

≥ 2.85cm

 

≥ 2.65cm

 
 
 
 
 
Wattbike®**

 2100W @ 188rpm

 22 Watts/kg

 2000W @ 176rpm

 20 Watts/kg

 1500W @ 167rpm

 21 Watts/kg

 1400W @ 162rpm

 19 Watts/kg
*2-point start. 1m start box behind 0m gate
**6 second power test. Men - air resistance level 6; women - air resistance level 5
If you match one or more of the above standards and are interested in attending the trial, please complete the attached form (link below) and return to rob.condliffe@thebbsa.co.uk