GB Bobsleigh name provisional World Championship squad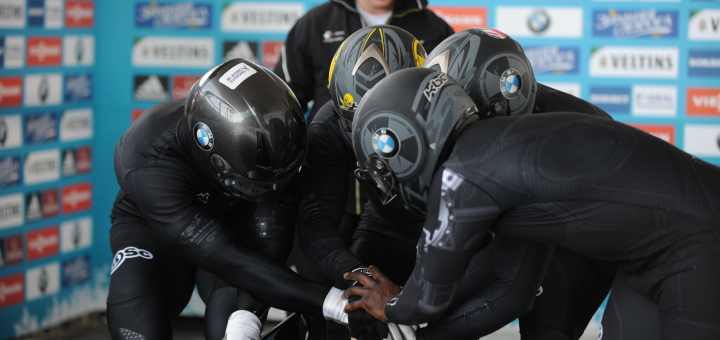 Great Britain Bobsleigh have their sights set on an historic medal after announcing their provisional squad for next month's World Championships in Austria.
GB finished fifth in the 4-man event at the last two global gatherings in 2013 and 2015, missing out on a bronze medal by just seven hundredths of a second in St Moritz three years ago.
They were similarly close to the podium at the 2014 Winter Olympics in Sochi, when they fell just 0.11 seconds shy of third spot, and Performance Director Gary Anderson is now keen to see his squad kick on in Igls in mid-February.
"We have come so close to a medal over the past few years and we are determined to take that next step this time around," said Anderson, who will officially finalise the squad after the seventh race of the World Cup season on the first weekend of February.
"We have named a strong squad, with as much depth in there as ever before, and we are genuinely excited about the prospect of challenging the world's best on the big stage."
Anderson and head coach Dominik Scherrer have opted for a mix of youth and experience in the squad to compete in Austria between February 12 and 21.
Lamin Deen will pilot GB1 in the 4-man, with double Olympian John Jackson leading GB2 in the showcase event on the final Saturday and Sunday in Innsbruck.
Deen, who was fifth in the World Championships in Winterberg last time out, will be joined by John Baines, Joel Fearon and Andy Matthews, while Jackson pilots Bruce Tasker, Ben Simons and new recruit Tremayne Gilling.
The only non-Olympian in the 4-man crews, Gilling makes the squad in his first year of competition since switching from sprinting, while Sochi veterans Fearon and Baines return after missing last year's championships.
Lamin Deen, John Baines, Joel Fearon and Andy Matthews are named as GB1
GB will also field two 2-man crews, with Tasker leading off Fearon in GB1 as the Welshman continues his rapid progress on the Accelerated Driver Programme (ADP) designed to give GB their widest ever selection of pilots come the next Winter Olympics in Pyeonchang in 2018. The second sled will be confirmed after the European Cup race in St Moritz on January 27, with Simons and Brad Hall battling it out for the right to drive GB2. If Hall gets the nod, Simons will act as his brakeman, while Baines will fulfil that role if Anderson and Scherrer decide that Simons will drive.
In the women's competition, Winter Youth Olympics silver medalist Mica McNeil leads the British challenge alongside fresh face Natalie DeRatt, who was sixth in last year's Championships while representing the United States.
Summer Olympic gold medalist Mark Lewis-Francis will be on standby with a host of other athletes just four months after he took up the sport. The Athens relay star has impressed since swapping the track for the ice but just misses the cut this time around.
"Selecting the squad was tougher than ever before," added Anderson. "We now have two 4-man pilots who have finished in the top five at a World Championships and we have three ADP pilots all pushing hard to drive the 2-man sleds as well as racing as brakemen in the 4-man crews.
"Mica McNeil is improving as a driver all the time and Natalie DeRatt has really added something extra to the team so we are hopeful that the women can improve upon last year's 14th place in Winterberg.
"Bruce Tasker has shown real promise as a 2-man pilot and the fact that we haven't finalised the second 2-man crew just shows how far we have come in terms of strength in depth within the wider squad.
A special congratulations have to go to Tremayne Gilling for making the World Championship team so soon after joining the programme.
"We always knew Tremayne was quick and we were very keen to get him involved for that reason but he has made huge strides since getting out on the ice for the first time in October. To be included with the best of British this quickly is huge testament to him and to our coaches.
"Mark Lewis Francis has also done exceptionally well since joining us in September and it was a tough call to leave him out on this occasion. He has worked hard, contributed well to the team environment and shown real promise. Although isn't involved in Igls, he will still play an important role in the rest of the season and is on track to push for a place in Pyeonchang."
The World Championships begin with the women's bobsleigh at 3.45pm GMT on Friday, February 12 and conclude with the men's 4-man on Sunday, February 21 at 2pm.
World Championship squad
GB1 4-man: Lamin Deen, John Baines, Joel Fearon, Andy Matthews
GB2 4-man: John Jackson, Bruce Tasker, Ben Simons, Tremayne Gilling
GB1 2-man: Bruce Tasker & Joel Fearon
GB2 2-man: Brad Hall & Ben Simons or Ben Simons & John Baines
Women's: Mica McNeil & Natalie DeRatt
World Championship timetable
Fri 12 Feb
Women's Bobsleigh 3.45pm GMT
Sat 13 Feb
2-man Bobsleigh 8.30am
Women's Bobsleigh 2pm
Sun 14 Feb
2-man Bobsleigh 8.30am
Team Competition 2pm
Sat 20 Feb
4-man Bobsleigh 2.30pm
Sun 21 Feb
4-man Bobsleigh 2pm