GB Bobsleigh miss medal by a whisker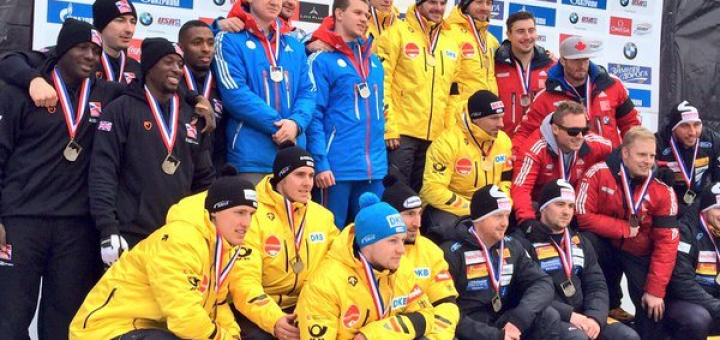 Great Britain Bobsleigh missed out on a World Cup bronze medal by the tightest of margins as Lamin Deen's 4-man crew finished fourth in Lake Placid on Saturday afternoon.
Deen and brakeman John Baines, Joel Fearon and Andy Matthews were just 0.04 seconds off a stunning top-three place in the fourth race of bobsleigh's premier circuit in New York State.
It was a remarkable achievement given that only one GB pilot has ever won a 4-man World Cup medal before - John Jackson's silver at the same track in 2013 - and it was even more impressive in that it came just 24 hours after Deen and Baines had crashed out of the 2-man event.
"It was a truly outstanding result for a crew that overcame yesterday's events," said GB Bobsleigh Performance Director, Gary Anderson.
"They were so close to a medal on what was a wonderful day for Great Britain after the performances of our youth athletes in their Olympic qualifying races.
We are now expected to be challenging for the podium in every 4-man race, and that shows just how far we have come.
"We are totally focused on performing well at the World Championships in Igls next month and these results are all part of that process. We are on track and I am so proud of all our athletes and all the staff who make this happen."
Grenadier Guardsmen Deen, who guided GB1 to fifth place at last year's World Championships in Winterberg, finished in a time of 1 minute 50.11 seconds, 0.41 behind race winner and double World Champion Max Arndt, with Russia's Alexander Kasjanov in second and Canada's Justin Kripps in third.
John Jackson and his crew of Jonny Anderson, Ashley Watson and Judah Simpson finished 16th in a race that saw Canadian driver Kaillie Humphries make history by leading the first all-women crew to compete in the 4-man World Cup.
Elsewhere this weekend, Mica McNeil & Aleasha Kiddle also finished fourth in the Women's European Cup in Konigssee, while Brad Hall and Justin Oro-Campos claimed a top 10 finish in the men's 2-man at the same track.
4-man Bobsleigh World Cup, Lake Placid, USA
1 M Arndt (GER) 1m 49.70s (54.49s & 55.21); 2 A Kasjanov (RUS) 1-49.98 (54.68 & 55.30); 3 J Kripps (CAN) 1-50.07 (54.73 & 55.34); 4 L Deen (GB) 1-50.11 (54.86 & 55.25); 16 J Jackson (GB) 1-51.80 (55.65 & 56.15)
World Cup Standings
1 Arndt (GER) 845pts; 2 Friedrich (GER) 818; 3 Rico (SUI) 768; 7 Deen (GB) 624; 19 Jackson (GB) 256; 21 Biddulph (GB) 142