Friday's results round up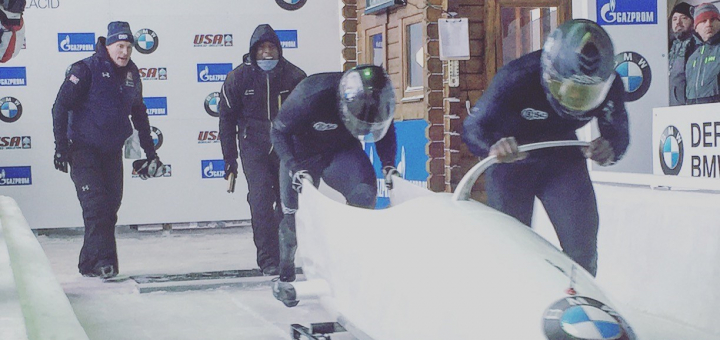 Friday's bobsleigh and skeleton action featured a top five spot on the Europa Cup circuit for Olly Biddulph and Toby Olubi and a 10th-place finish for Dom Parsons in the World Cup in Lake Placid.
Bobsledders Biddulph and Olubi picked up the podium place in Altenberg early in the morning, with team-mates Bruce Tasker and Justin Oro-Campos just behind them in seventh.
Parsons then kicked off the weekend's World Cup action with a top 10 spot in the men's skeleton as Jack Thomas came in 25th.
The World Cup bobsleigh competitions in New York State saw Lamin Deen and Judah Simpson finish 15th before Mica McNeill & Mica Moore watched their hopes of a podium position dashed by a crash early in their second run.
Pilots Biddulph & Tasker maintained their first run positions in what was a vastly experienced, 27-strong EC field that featured a number of World Cup sleds, including World Championship silver medalist Beat Hefti, who split the Brits in sixth.
The teams will switch around for the second EC 2-man race of the weekend on Saturday morning as Olubi pushes Tasker and Oro-Campos breaks for Biddulph.
Over in America, Parsons sat 12th at the halfway mark after posting a time of 54.20 seconds on the back of a 5.05 start but he improved considerably in Run 2 with a time of 53.88.
Dom Parsons placed 10th in Friday's World Cup race in America (c) Heather Dichter
He enjoyed a spell in the leader's box before being overtaken by Germany's Axel Jungk in a race eventually won by Russia's reigning Olympic Champion Alexander Tretiakov.
America's Matt Antoine claimed his country's best result at the track since GB coach Eric Bernotas won there in 2007, with last week's victor in Whistler, Sungbin Yun from South Korea, claiming the bronze.
Fellow Brit Thomas missed out on a second run after finishing 25th of the 27 sliders in a time of 55.34. The 26-year-old enjoyed a strong start by clocking 4.93 seconds for one of the best times at the top but he dropped out of contention on his first competitive appearance at the Lake Placid track.
Deen and Simpson were in 14th at the end of their first run of 55.21 later in the afternoon, before slipping a single spot in their final outing after registering a time of 55.69.
Things were looking bright for McNeill and Moore as they sat in sixth spot at the halfway mark of the women's race, with hopes high for McNeill's best-ever top-tier placing in her 16th World Cup competition. But an error early on saw the sled overturn in corner three, leaving the pair with an uncomfortable ride before McNeill somehow managed to right the sled far lower down the track.
McNeill & Moore enjoyed a strong first run in New York State (c) Heather Dichter
To their credit, they completed the race to ensure they picked up World Cup ranking points, although it was a definite case of what might have been after such a strong first run.
There is still plenty more World Cup action to come over the next two days, with the Women's Skeleton taking place at 1.30pm GMT on Saturday, when Laura Deas and Olympic Champion Lizzy Yarnold go for GB.
The 4-man bobsleigh then follows at 4.15pm when Deen will lead a crew of Mark Lewis-Francis, Andrew Matthews and Tremayne Gilling - the same team he piloted to ninth in Whistler a fortnight ago.
And there is no shortage of EC competition on the cards, either, as Biddulph and Tasker both prepare for their second 2-man race in as many days, before the 4-man race brings the curtain down on the 2016 race calendar at 8am GMT on Sunday.
World Cup results:
World Cup (Lake Placid, USA). Men's Skeleton: 1 A Tretiakov (RUS) 1m 46.49s (53.27s & 53.22); 2 M Antoine (USA) 1-46.92 (53.45 & 53.47); 3 S Yun (KOR) 1-46.94 (53.24 & 53.70); 3); 8 D Parsons (GB) 1-48.08 (54.20 & 53.88); 25 J Thomas (GB) 1 Run (55.34)
World Cup (Lake Placid, USA). Women's Bobsleigh: 1 J Greubel-Poser (USA) 1m 52.02s (55.81s & 56.21); 2 E Meyers-Taylor (USA) 1-52.16 (55.95 & 56.21); 3 K Humphries (CAN) 1-53.05 (56.40s & 56.65); 14 M McNeill (GB) 2-04.19 (54.00 & 1.07.27)
World Cup (Lake Placid, USA). 2-man Bobsleigh: 1 S Holcomb (USA) 1m 49.47s (54.66s & 54.81); 2 J Kripps (CAN) 1-49.74 (54.87 & 54.87); 3 C Spring (CAN) 1-49.75 (54.80 & 54.95); 15 L Deen (GB) 1-50.90 (55.21 & 55.69)