Friday's Bobsleigh round up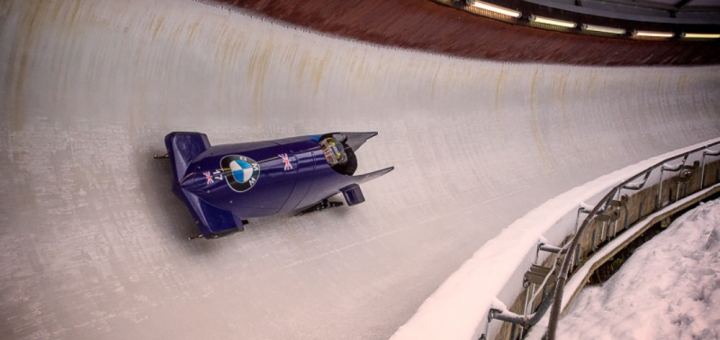 It was European Cup action for the Great Britain Bobsleigh squad today as they took on one of the world's toughest tracks in Altenberg.
And it was a case of yet more progression for Accelerated Driver Programme (ADP) pilots Bruce Tasker, Brad Hall and Ben Simons as they dealt with the difficulties of the German track head on, despite having only had a week's practice at the venue.
The trio, who have all established themselves among the nation's leading brakemen, are only in their second season as pilots but still saw off some top crews to finish 9th, 10th and 11th in Race 3 of the 2-man season.
Tasker and Mark Lewis-Francis led the way for the Brits in a field of 22, followed by Hall and Tremayne Gilling and Simons and Simeon Williamson, with just 16 hundredths of a second separating all three crews.
In the women's race, Mica McNeil and Natalie DeRatt were seventh, with Russia and Germany the only nations to finish above the Brits.
"I'm delighted with the progression being shown by these drivers, especially when you consider the fact that they've only been at Altenberg for a week," said Great Britain Bobsleigh Performance Director, Gary Anderson.
"These guys are world-class athletes and that's why they are on our programme but we've taken them from brakeman to pilots and they've gone out to one of the world's toughest tracks and achieved fantastic results.
They've beaten seasoned pilots who have been on the ice for many years, and they've done that on an incredibly difficult track. That track holds no fear for them now.
"Mica sets very high standards for herself so we always expect her to be knocking on the door of the podium. But while seventh may look a little way off, when you consider that the only athletes who were in front of her were seasoned Russian World Cup pilots and Germans racing on their home track, there isn't anyone else who is really causing her problems at the moment."
Attention turns to the 4-man crew on the European Cup circuit tomorrow and the 2-man teams led by Lamin Deen and Olly Biddulph in World Cup competition in Winterberg. Racing starts at 8.30am GMT for the World Cup and 1pm for the EC circuit.