Deas pleased with consistency in US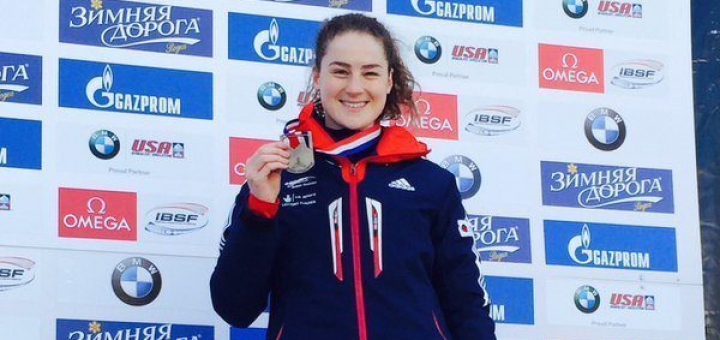 Great Britain Skeleton star Laura Deas says she wants to be on the podium week in, week out after Friday's fine third-place showing in Lake Placid.
Deas took bronze behind America's Annie O'Shea and Switzerland's Marina Giraldoni in New York state to cement third place in the latest World Standings four races into the season.
That medal was her second of the campaign following a maiden World Cup win in the season opener in Altenberg in late November and it went a long way to proving that her 10th place finish in Konigssee before Christmas was the exception rather than the rule for the former professional event rider.
"It's a great way to start the New Year. I want to be challenging for medals consistently so to be on the podium again is a great feeling," said Deas.
I want to be a constant threat this season so I was delighted to be able to put down two consistent runs.
"I want people to look over their shoulders at me, knowing that I will be in the mix throughout the year."
Deas shared the lead with Giraldoni after Run 1 as the World Cup circuit returned to action after a three-week festive break but O'Shea produced a blistering second heat on her home track to claim her first World Cup win and deny Deas a second in the process.
But Deas refused to be downbeat about narrowly missing out on another gold and silver, instead insisting the race as a whole was hugely positive as she looks ahead to Park City on Saturday and on to next month's World Championships in Igls.
"Lake Placid is a tricky track that comes at you fast, especially after the break we had in the race schedule over the last few weeks, so to medal was definitely pleasing. I had lots of work to do in the week and I improved day on day in training so I was in good shape come race day," added Deas.
"It wasn't about being disappointed with not holding on to the lead, either - it was about being consistent across both runs. It showed that finishing 10th in Konigssee in December was a blip: I'd had one mistake on the second run there and it had cost me dear so I was determined to hold it together on the second run in Placid. I'm very pleased to have held on to a medal.
"This is a good platform to kick on from ahead of Park City. That's a track I like - although I didn't race there last year - and I'll be looking to keep up the momentum now."
Deas next takes to the ice at 6pm GMT this Saturday for Race 5 of the World Cup season in Utah. 
You can follow the action live via http://www.ibsf.org/en/