Deas determined to move on up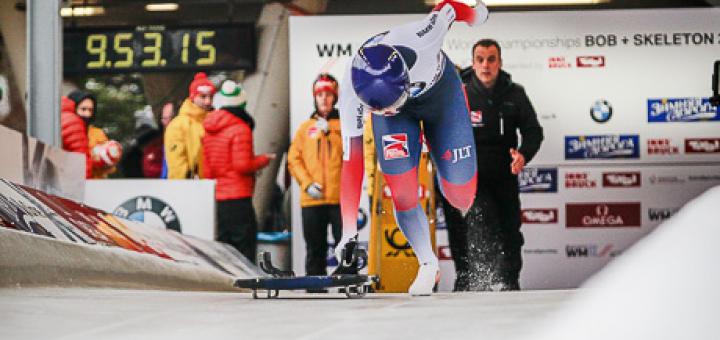 Laura Deas is determined to jump up the leaderboard when she tackles Runs 3 and 4 of the women's skeleton on Saturday.
Deas finished Day 1 in 11th place after a couple of minor mistakes cost her valuable time on Friday morning but, with much of the field tightly bunched, she already has her sights on making a push back towards the podium tomorrow.
"I'd obviously like to be higher ranked going into tomorrow, but if I can put down two consistent runs with two strong pushes, I'll still be in the mix," said Deas, who is currently just over three tenths of a second outside the medals, having clocked times of 54.46 and 54.75 in Igls, Austria.
"It's very, very close and consistency is going to be key in Runs 3 and 4 because we've seen people move up and down the order a lot today. If I can be one of the people that puts down two good runs, it could be very different tomorrow.
"On my first run, my line into Corner 2 wasn't brilliant and that put me slightly off rhythm for the whole of the top section. On the second run, that section was a lot better, but then I had a small mistake coming off Corner 10, where I touched the left wall, and that scrubbed a bit of speed off.
"There's still a lot to play for, though, and, if I can put pressure on the people above me, I can hopefully jump up some spots."
Laura Deas is 0.34 seconds outside the top three (c) Mike Varey
Fellow Brit Donna Creighton is ranked 17th so far, 0.86 seconds behind Deas, after times of 54.96 and 55.11 in her opening runs.
Overall World Cup leader Tina Hermann of Germany continued her impressive season to hold the gold medal position at the end of the first two heats, with home favourite Janine Flock in second, a week after winning in St Moritz.
Hermann's compatriot, Sophia Griebel, occupies third spot, with America's Annie O'Shea just a further 0.01 seconds behind.
Deas was joint eighth after Run 1, exactly half a second back from Hermann but just five hundredths of a second behind then fifth-placed Elizabeth Vathje. The 27-year-old from Wrexham produced the fifth quickest start in the first heat and the fourth fastest second time around, while Creighton was 10th quickest off the mark on both occasions.
Runs 3 and 4 take place tomorrow at 8.45am GMT, with the race live on BT Sport Europe and the BBC Red Button, with the latter also showing a repeat at 12.30pm.
World Championships (Igls, Austria). Women, Runs 1 & 2 of 4: 1 T Hermann (GER) 1m 48.34 seconds (53.96 & 54.38); 2 3 J Flock (AUT) 1-48.50 (54.11 & 54.39); 3 S Griebel (GER) 1-48.87 (54.57 & 54.30); 11 L Deas (GB) 1-49.21 (54.46 & 54.75); 17 D Creighton (GB) 1-50.07 (54.96 & 55.11).