Deas determined to kick on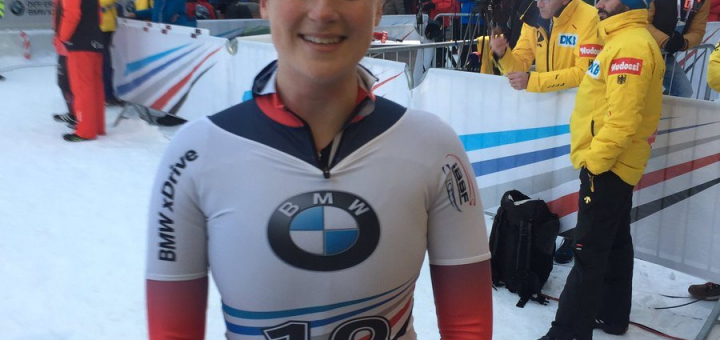 Laura Deas insists she is ready to build on the success of last season as she looks to continue her rise towards the top of the skeleton world.
Deas twice won medals during her debut season on the World Cup circuit last term and claimed an impressive seventh-place finish at her first visit to the World Championships in Winterberg.
The 27-year-old from Wrexham continually showed she can mix it with the very best and ended the year fifth in the World Rankings as a result.
And with the new World Cup campaign now just days away, the former professional event rider is all set for more of the same.
"Last season was a breakthrough year for me," said Deas, who kicks off her season in Altenberg, Germany, this Friday.
"Last year was the first time that people stood up and took notice of what I'm about as a slider. I had the chance to perform on the World Cup circuit and show people what I'm capable of.
I'd like to be able to consolidate that and build on it and, hopefully, stand on the podium a few more times.
"Standing on the podium was obviously a great feeling. Doing that in Calgary was very, very special as it was only my second ever World Cup race and I'd never been to the track before. I definitely surprised a few people that day.
"St Moritz was a fantastic week because it's such an amazing place to slide. It's like nowhere else in the world so to get a medal there was pretty exciting.
"And then to be able to put down four solid runs in the World Championships, to improve on each one and to finish in the top 10, also exceeded the expectations I had at the start of the year."
Expectations are understandably higher this year as a result of her achievements last season yet there is no danger of Deas getting carried away with what could lie ahead if she continues her smooth progress.
But, while you would be hard pushed to find a more level-headed, grounded athlete, that doesn't mean that Deas will be lacking in confidence as she battles to beat the best.
"I want to consistently be fighting for medals. That's my next goal: not just to be on the podium, but to be on top of it," added Deas.
"That's something I haven't done yet but I'm pretty confident that it's a possibility. I've got everything that it takes, it just needs to come right on the day. With the people I've got around me, the team ethos that we've got and my working relationships with the people in the Great Britain Skeleton group, it's definitely possible.
There's no one in the field that I look at and think, 'You're beyond reach'.
"And for the most part, I've finished ahead of everybody in the field at one stage or another. It's about bringing it all together and being consistent.
"Experiencing being on the podium definitely makes me hungrier for more success. Knowing that I can do it and I have done it just wants to make me do it more often.
"That's the difference between now and before: there was always a question mark as to whether I could do it but now I know that I can, and I've proved that.
"That gives me an extra degree of confidence because every time I step on the track looking for success I'm doing something I've done before."