Olympic champs' praise Yarnold's success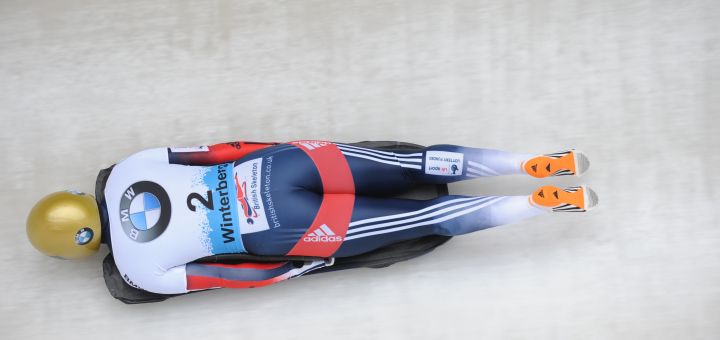 Olympic champions Darren Campbell and Anthony Joshua were full of praise for skeleton star Lizzy Yarnold and the GB Skeleton programme as a whole when the trio met up at the launch of UK Sport's latest search for sporting stars of the future.
Campbell, who won 4x100m relay gold alongside GB Bobsleigh's Mark Lewis-Francis in Athens in 2004, and Joshua, who is the reigning Olympic super-heavyweight boxing champion, have been impressed with Yarnold's stellar career to date, while GB Skeleton's ability to consistently produce Olympic, World and European medallists has also caught their eye.
"If you look at what Lizzy has achieved, it's ridiculous, and that's why she has gained the attention that she deserves," said Campbell, who sees similarities between the way Yarnold and her GB Skeleton team-mates beat the best in the world despite not having an ice track and the challenges faced by British sprinters given the unfavaourable climate here in the UK.
"We're not a nation that traditionally excel in winter sports. And practice is what brings the confidence: when you're on that line and it's your moment and your heart's beating and wants to leave your chest, you have to trust in what you've done before.
"To go down the tracks, understand the course and this turn and that turn - how do you do that unless you are able to go over there and be on those tracks?
"It's not the same but, in a way, it's similar to sprinting. We go up against the Americans and the Jamaicans, where the conditions and climates are perfect for sprinters. To wake up every day in the warmth and be able to go out and do your session at the speed you need to do it… your muscles are supposed to be warm. We're like Formula One cars: tyres are kept warm and hamstrings and calves and hip flexors are supposed to be kept warm, too. We don't have the right weather to sprint at the highest level, but we do it."
Darren Campbell, Anthony Joshua and Lizzy Yarnold have all won Olympic gold  
Joshua certainly knows a thing or two about beating the best, having added the IBF World Heavyweight crown to his Olympic title after just 16 professional fights.
And, while most of the world's press and public have viewed his own rise as truly remarkable, the 26-year-old shares similar sentiments when it comes to Yarnold's success in winning Olympic, World Cup, World Championship and European Championship gold within the space of 400 days in 2014 and 2015.
"Her story is phenomenal," said Joshua.
"It's different, it's unique. She's got a proven track record at what she does. At the end of the day, the fundamentals are discipline and dedication.
"100 per cent (the process is important). If you've got a medal tally, you look at what's been working and what hasn't been working. What they've put in place has been successful."
The pipeline for that success starts with the Discover Your Gold talent identification that Joshua, Campbell and Yarnold were promoting prior to the start of the Rio Olympics.
All three are convinced the latest campaign can help uncover future Olympic greats, with Yarnold admitting it has the potential to change lives; Joshua insisting 'anything is possible and I'm proof of that'; and Campbell recognising just how important the process is when it comes to keeping GB Skeleton's success story going past Pyeongchang 2018 and Beijing 2022.
"Without this kind of talent identification, Lizzy's success probably doesn't happen," added Campbell.
"We're all built differently but it's easy to get pigeonholed into a certain sport. What's happened in British sport over the last few years is that there is now more diversity and bigger opportunities. Successes such as Lizzy's have highlighted that, although we don't have snow or lot of this or a lot of that, with the right talent nurtured in the right way, we can have success."
If you think you have what it takes to represent GB at the highest level, UK Sport, the English Institute of Sport and GB Skeleton want to hear from you. Click here to start your application.