Busy weekend for GB Bobsleigh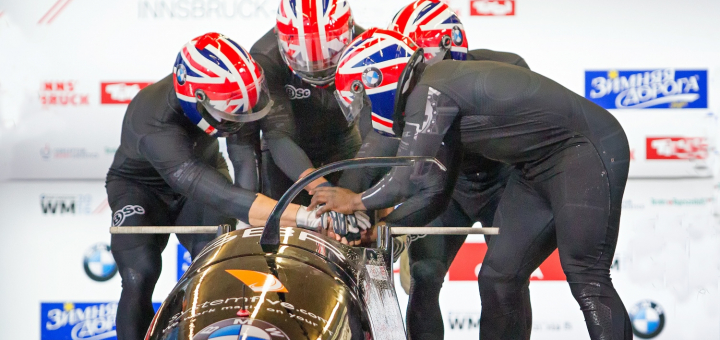 GB Bobsleigh are all set for a busy weekend of action as they compete in both World Cup and Europa Cup competition on Friday, Saturday and Sunday.
Lamin Deen and Mica McNeill will pilot sleds on the World Cup circuit in Lake Placid, while Bruce Tasker and Olly Biddulph will drive for GB on the European circuit in Altenberg.
The opening week of World Cup competition in Whistler saw the British team hit their pre-race targets and Head Coach Dominik Scherrer now has his sights set on more progress in Placid.
"We were satisfied with our performances at the first World Cup race and we will be looking to take another step forward this weekend," said Scherrer.
"Our primary objective in Whistler in Week 1 was to become competitive on a track that is fast and technically difficult and one that no current British pilot had ever raced on due to it being off our calendar for a while.
"We felt we did that and have learned a lot from the experience and we now move on to an equally challenging track in Lake Placid where we will be looking for similar progress.
The first two World Cup races for GBR are about accumulating track time and IBSF ranking points and we have been very clear within our squad as to those objectives.
"The performance strategy involves squad rotation and that gives all athletes a chance to show their abilities and put themselves forward for consideration for selection on to the World Championships sleds."
Deen will drive both 2-man and 4-man sleds in the United States on Friday and Saturday respectively, with McNeill sliding in the women's race at 6.30pm GMT on Friday.
McNeill was eighth alongside debutant Mica Moore in Whistler the weekend before last as she backed up four successive North American Cup medals with a solid showing in the top-tier opener. Deen and his crew of Mark Lewis-Francis, Andrew Matthews and Tremayne Gilling finished ninth in the 4-man event in Canada and they will enter the latest race in high spirits given that Deen only just missed out on a medal the last time he was in New York State.
"Mica and Mica have enjoyed a really positive start to their partnership and we are looking for them to build on their eighth place at the first World Cup with another strong performance in America," added Scherrer.
"Lamin has a strong record in Placid having finished fourth in the corresponding World Cup race last year. He was just 0.04 seconds from a bronze medal so it is a track he should be confident on."
While the World Cup squad are sliding in America, the Europa Cup team will be on track across the Atlantic as they compete in a double dose of 2-man races before bringing the weekend to a close with a single 4-man race on Sunday morning.
Biddulph and Tasker kick things off in the 2-man event in Germany at 8am GMT on Friday, with the latter having moved across to Europe after the opening World Cup race in Canada in order to pick up valuable ice time at another of the world's most difficult tracks.
"Altenberg is a high-speed, technical track and that is what is needed for Bruce to continue his development into a true world class pilot.
Bruce is now looked upon as a true Olympic medal contender for 2018 after his fourth place at the World Championships last season and, if we want that to happen, he has to master these types of track.
"The third World Cup race also takes place in Altenberg after Christmas so giving Bruce the chance to race there this week could also pay dividends in that regard.
"Olly has been working hard out in Europe for a number of weeks now and he will be looking to post some strong results in what is the last Europa Cup race of 2016.
"It's also encouraging to hear that Brad Hall is progressing well in his recovery from a hand injury and we look forward to welcoming him back to the circuit in early 2017."
WORLD CUP RACE 2: LAKE PLACID, USA
Bobsleigh race times (all times are GMT)
Fri 16 Dec
Men's 2-man Bobsleigh 5.30pm
Women's Bobsleigh 6.30pm
(The first run of the Women's Bobsleigh will follow the first run of the 2-man event.)
Sat 17 Dec
Men's 4-man Bobsleigh 4.15pm
The action will be live on the International Bobsleigh & Skeleton Federation website and via their You Tube channel
You can also receive regular updates via our social media channels: @the_bbsa on Twitter and BritishBobsleighandSkeleton on Facebook
EUROPA CUP: ALTENBERG, GERMANY
Fri 16 Dec
Men's 2-man Bobsleigh 8am
Women's Bobsleigh 8am
Sat 17 Dec
Men's 2-man Bobsleigh 8am
Sun 18 Dec
Men's 4-man Bobsleigh 8am