Bromley and McGrandle retire, Rudman extends maternity leave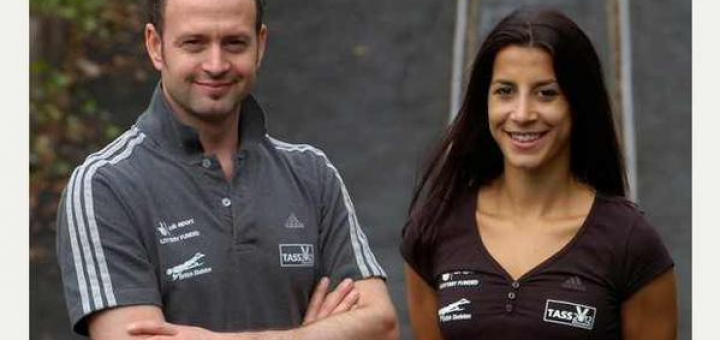 Former skeleton World Champion Kristan Bromley has announced his retirement after a ground-breaking career featuring over 125 international competitions and lasting two decades, while Olympic silver medalist Shelley Rudman won't be part of the British programme this season after extending her maternity leave.
Neither Bromley or Rudman, who are engaged with two young children and living in Wiltshire, competed last season but both have had a huge impact of the success of the sport in this country.
Bromley made history in 2008 when he became the first slider to claim the Triple Crown by winning the World Championships, European Championships and overall World Cup titles in the same season.
The 43-year-old also secured the overall World Cup title in 2004 and further European Championship golds in 2004 and 2005, as well as a European silver medal in 2009 and a World Cup bronze in 2000.
He featured at four Olympic Games, in Salt Lake City in 2002, Turin in 2006, Vancouver in 2010 and Sochi in 2014, finishing fifth in Italy nine years ago.
"I'm very proud of what I've achieved, including representing my country at over 100 World Cup and championship events and four Olympic Games, but now is the right time to move on to other things," said Bromley, who started racing in 1995 and will remain involved in skeleton through his sports technology company, Bromley Sports.
It's only now that I'm reflecting and thinking that it's been an amazing ride.
"Winning the treble didn't sink in at the time but that was the season I was the most proud of. It was the first time in the history of the sport that anyone had won all three competitions in the same year and it came at a time when pretty much everybody had written me off.
"The overall World Cup title is the special one for me. From a purist's point of view, it's the hardest and probably the most prestigious event to win. The Olympics and the World Championships are special but to say you are world number one in your sport over a whole season is the one I coveted the most.
"The 2008 overall World Cup title is my favourite achievement simply because it was a hard fight all the way through: it went right to the wire in the last race and all the best sliders from the previous five years or so were in that competition. To bounce back from the disappointment of missing out on a medal in Turin and to dominate again was a big achievement for me."
Bromley was national number one from 1996 to his last international season in 2014 and British Skeleton's Performance Director, Andi Schmid, believes his achievements match those of the very best sportsmen the country has ever produced.
"Kristan enjoyed an incredible career on the international stage and very few athletes can rival him across all sports, let alone skeleton," said Schmid.
"He has had a massive impact on skeleton in this country, and the rest of the world, both in terms of his own sliding and the impact of the Bromley brand.
"To be in and around the medals for close to 20 years is quite remarkable and to win all three titles in one year was an incredible achievement that very few people will ever be able to match. He was, and still is, the model for all other British male sliders."
Whereas Bromley has decided to officially call time on his sliding career, Rudman may yet look to compete again once her maternity leave with seventh-month daughter Sofia comes to an end.
As well as securing Great Britain's only medal in the 2006 Olympics in Italy, Rudman won every other major honour possible in the skeleton world across a stellar career that began back in 2002.
The 34-year-old from Wiltshire was the first British woman ever to win the World Championships when she triumphed in St Moritz in 2013; she was twice European Champion in 2009 and 2011; overall World Cup Champion in 2012; and World Student Games Champion in 2005.
She competed at three Winter Olympics, in Turin, Vancouver and Sochi; was runner up in the overall World Cup competition on three occasions; won two silver and two bronze medals in the European Championships; and was British number one between 2004 and 2012, as well as breaking more than 10 track records across the world.
"I love the sport and competing" said Rudman, whose eldest daughter, Ella, will be eight in October. "I intend to carry on with my maternity leave but I haven't ruled out a return to the sport. I've got qualifications and experience in a variety of things, from teaching, performance coaching and mentoring to Sports Science and PR, so there are lots of options I can explore if I don't come back to sliding.
When I set out in Skeleton I wanted to win medals in every competition I could and I was really fortunate in that I've been able to achieve that aim.
"My Olympic silver medal was an absolute dream moment and one which always captures the media attention but, for me, my World Championship title in St Moritz was a real highlight. It was my favourite track, the first time a British woman had won that title and I had my best supporter - my daughter Ella - there with me as well. It's the only natural ice track we compete on and there's a lot of British heritage there so it's got a very unique feel to it and it was a very special place for a very special achievement.
"The overall World Cup title was the hardest one to win because you have to be really consistent over the course of the season. That's really tough when you have to take into account injury niggles, illness, extensive back-to-back travel, the different types of track and the weather and so forth.
"In my last five years I haven't been out of the podium places in the overall World Cup and that's a really great achievement for me. It's always nice to win something and to hold a trophy or a medal but I was very keen to enjoy longevity of high performance in my career and I'm really, really proud of that. To have been mixing it with the very best year after year and to have been on the podium for the amount of time I have is very special."
"Shelley took British Skeleton to another level," added Schmid. "She performed at the highest level time and time again and her achievements were sensational.
"Her performance in the World Championships in St Moritz in 2013 when she destroyed the field was absolutely extraordinary. She was one of the most talented athletes in our programme but she was also so consistent and being so strong over a long period of time is something that Shelley deserves a huge amount of credit for.
Shelley was also a model for the next generation to follow. She was someone the other athletes looked up to or wanted to emulate.
"She has been a leading light across an extended period of time and her achievements have reflected so positively on British Skeleton as a whole. We have a really talented group of athletes currently in the senior squad or moving up through the ranks and Shelley's success has played an important part in ensuring that British Skeleton continues to be successful on the world stage."
Rose McGrandle has also announced her retirement from the sport after six years as part of the British Skeleton programme. McGrandle won the Intercontinental Cup (ICC) title in 2012; claimed a bronze medal at a World Cup event in Igls in February; and finished ninth in this year's World Championships in Winterberg.
"Rose was a very strong, very talented and very focussed athlete who achieved some notable results. Winning the ICC title really showed her potential," said Schmid, who has long been aware that McGrandle, Rudman and Bromley wouldn't be part of the British Skeleton programme this season.
"She was part of a very powerful team who all pushed each other and had a very high level of professionalism. She should be very proud of her career and to have represented her country with such distinction.
"We were prepared for these decisions and are fully on board with them. We have real strength in depth and a very talented and hungry group of athletes. We will use the successes of Rose, Shelley and Kristan as an indicator of what we are able to achieve as a nation."